Solved: How Does Monitor Refresh Rate Affect Aiming Performance?
Today, we'll be exploring whether monitor refresh rate impacts a player's aiming performance.
Whoever said only a poor workman blames their tools must not have been a gamer. They've never put in the hours of practice and warm-up only to be beaten by a lesser player who had a better rig. We want to think that skill level is all that matters, but it's just not true.
If the world isn't going to play fair, maybe you shouldn't either. Wouldn't it be great to discover a shortcut to improving your aim or your reaction times?
Gamers play over 1 million drills every month on the Aiming.Pro aim trainer. That gives us a lot of data for answering some of gaming's biggest questions. Today, we'll be exploring whether monitor refresh rate impacts a player's aiming performance
This article is part of Solved — our science series in which we investigate how players can improve their aiming performance. We use data collected from millions of games and run experiments in our bespoke aim training environment to offer you exclusive insights and answers to all your aiming questions
What Is Monitor Refresh Rate?
Monitor refresh rate is the number of times per second that your monitor updates with new images. Monitor refresh rate sets an effective cap on the frames per second (fps) of your video games.
Standard monitors have a 60 Hz refresh rate, so your games can show a maximum of 60 frames per second (fps). Gaming monitors have 144 Hz or 240 Hz refresh rates, letting you raise your maximum frame rate to 144fps or 240fps, respectively.
In a now-famous fps experiment from Linus Tech Tips, Linus managed to out-aim Shroud simply by using a higher refresh rate monitor.
There are also academic studies on the link between monitor refresh rate and game experience. Not surprisingly, hardware manufacturers like Nvidia have even weighed in on how FPS impacts Esports performance.
We wanted to go a step further, though. It's not enough to determine that there is an impact. We intended to quantify exactly how much a higher monitor refresh rate can improve your aiming performance.
144hz monitors are fairly affordable these days, but are they worth the money? Does it make sense to stop there, or should you go premium with a 240hz monitor? Those are the types of actionable insights that matter, so that's where we focused our study.
How We Did Our Analysis
We decided to take two approaches to answer this question: leveraging pre-existing player performance data and running controlled experiments.
1. Existing player data
For our first method, we analyzed millions of past games played on Aiming.Pro.
We took the score distributions for some of our most popular games — the Global Aim Rank drills — and grouped them by their frame rates. These 4 game types cover four distinct skill areas: target frenzy, flick aim, tracking aim, and target switching. Our goal was to figure out which aspects of aiming performance, if any, were impacted by the player's refresh rate.
We first looked at the relationship between frame rates and performance. This method was only intended to establish a correlation and cannot be used to determine whether frame rates actually caused the changes in aiming performance.
The second phase of our data analysis attempted to prove causation by looking at how players' aim performance changed when they switched between low and high frame rates.
2. Controlled experiments
To take our analysis a step further, we conducted a series of controlled experiments on players' aim performance. For these, we focused our tests on two types of aim:
Tracking aim where you track moving targets.
Static click timing aim where you click on stationary targets.
The testing approach for each of these was:
Conduct a warm-up.
Play each drill 5 times each at 60hz, 144hz, and 240hz.
Repeat steps (1) and (2) to ensure consistency.
If you want to try these drills out for yourself then you can find them at these links.
Results
Our hypothesis was that a player's tracking aim would be more sensitive to refresh rate than static aim. We also predicted that there would be a larger gap in performance between users of 60 Hz and 144 Hz monitors than between 144 Hz and 240 Hz.
Without sneaking a peek at our results, do you think we were right?
Got your guess locked and loaded? Great, let's venture forth.
1. Existing Player Data
To set the stage, we'll need some basic insights from our data.
What refresh rate are people using?
This entire study would be pointless if all players were using the same monitors, but we know that isn't the case. Let's see just how many players are using high refresh rate monitors.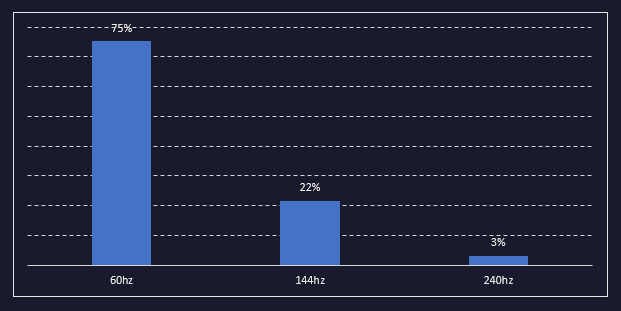 If you're using a 60 Hz monitor, you are safely in the majority, but a quarter of players have better gear. Even If only very high refresh rates matter, that 3% of players running at 240 Hz could be dominating the leaderboards.
Do higher-performing players use better monitors?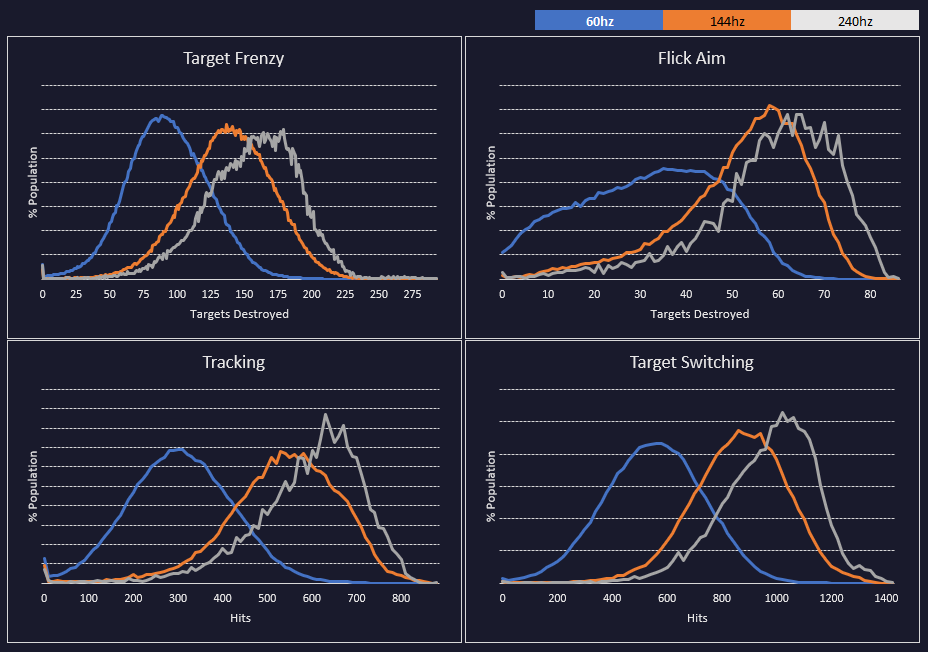 The correlation between frame rate and Aiming.Pro performance is immediately obvious from these results. Players with 144hz monitors had 60% higher scores than those with 60hz monitors. Comparing 240hz to 60hz, the performance gain jumped to 80%.
But don't go running to an electronics store just yet!
Who do you think spends more money on high-end monitors: casual or serious gamers?
We're talking about averages here. You can be a serious gamer with a 60hz monitor or a casual gamer with a 240hz monitor, but we can safely assume that more intense players are more likely to dish out the money for serious gear.
We needed a way to control for that selection bias. In a perfect world, we would have randomly selected a control group and forced them to play at 60fps regardless of their gaming gear. While that might be perfect for us, it would be cruel to our players, and we like you too much to do that.
Fortunately, we found a better way.
Analysis of players who switched frame rate
We dug around in the data and found a group of players who had switched from low to high frame rate (or the other way around).
For each skill assessment, we found players who had played at least 10 games at 60fps and 10 games at a higher frame rate (between 144 and 240fps). From that group, we took the average score of each player at 60fps and compared that to their average score at the higher frame rate.
Does switching frame rate impact aim performance?


We saw an uplift of 20-30% across all the categories when users switched to a higher frame rate. That seems huge, but there's an important caveat that we haven't addressed: players get better over time.
Maybe players switch monitors because they are getting better. Maybe we're just seeing the natural progression of a player getting more serious about the craft. We haven't controlled for any of that in this data. For that, we need an experiment.
2. Controlled Experiments
Now for the results you've been waiting for. These are the experiments where we cycled players through different frame rates to find out once and for all whether a higher monitor refresh rate can improve aim performance.
Tracking aim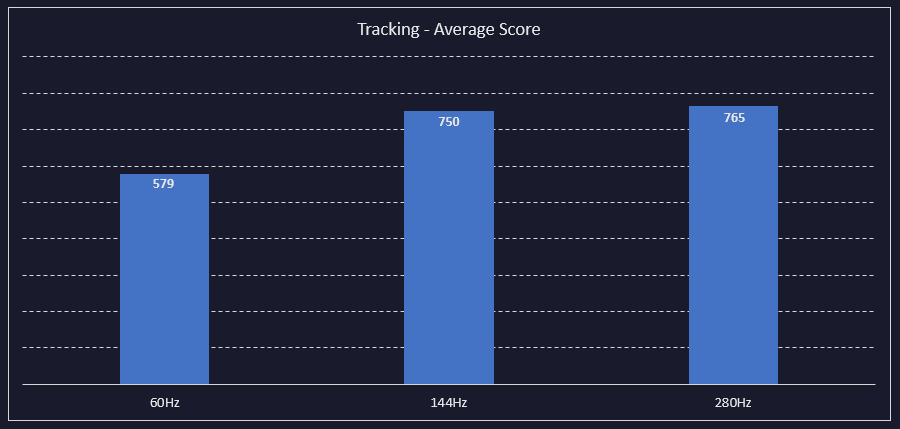 We saw a 30% improvement in tracking from 60 Hz to 144 Hz and then a further 2% improvement from 144 Hz to 280 Hz.
Static click timing aim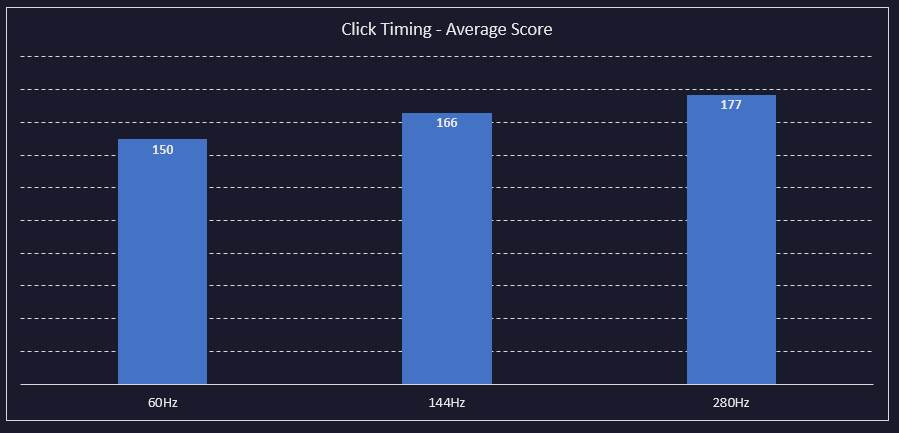 Static click timing improved by 20% from 60 Hz to 144Hz. From 144hz to 280 Hz, we saw a further improvement of 7%.
So Will Buying a High Refresh Rate Monitor Improve My Aim?
It certainly looks that way. In both our data analysis and our controlled experiments, we found that higher refresh rates boosted aiming performance, particularly with tracking aim — the type you use when trying to hit a moving target.
If you have a 60 Hz monitor, our data indicates that upgrading to a 144 Hz monitor could improve your aiming significantly: 20% for stationary targets and 30% for moving targets! The jump from 144 Hz to 280 Hz produced a smaller, although still noticeable, improvement.
But is that enough to matter for in-game situations? After all, that's what we really care about here.
You will be at a noticeable disadvantage playing at 60 Hz against players on 144 Hz and 240 Hz monitors. The 20-30% performance boost from 60 Hz to 144 Hz is just too big to ignore.
However, the performance jump from 144 Hz to 240 Hz was much smaller — about 2-3%. That's probably not going to make a substantive difference in a typical match. If you are looking to compete at the top of the scoreboard, though, you should not ignore those minor gains.
Like any athlete, gamers know that a 2-3% improvement is more than enough to turn a defeat into a glorious victory. When a fraction of a second matters, a 240 Hz monitor is worth the investment.
Discuss and Stay Connected: