Halo Infinite: Preparing your aim with Aiming.Pro
What is Halo Infinite?
Halo infinite is the newest title to be announced from the developers at 343 Industries. This upcoming title is the next game in the franchise, right after Halo 5 which was released over 5 years ago. The game will be published under Xbox Game Studios for release with Windows, Xbox One and Xbox Series X. This will be the sixth game in the main entry of the series and the fourteenth game overall.
Halo Infinite has had a large development cycle, starting in 2015. Word of the developers' progress first came with a showcase posted as part of the 2018 E3 event. The trailer showed off a ton of graphical features and had us all very excited. You can check that out here: https://www.youtube.com/watch?v=Fmdb-KmlzD8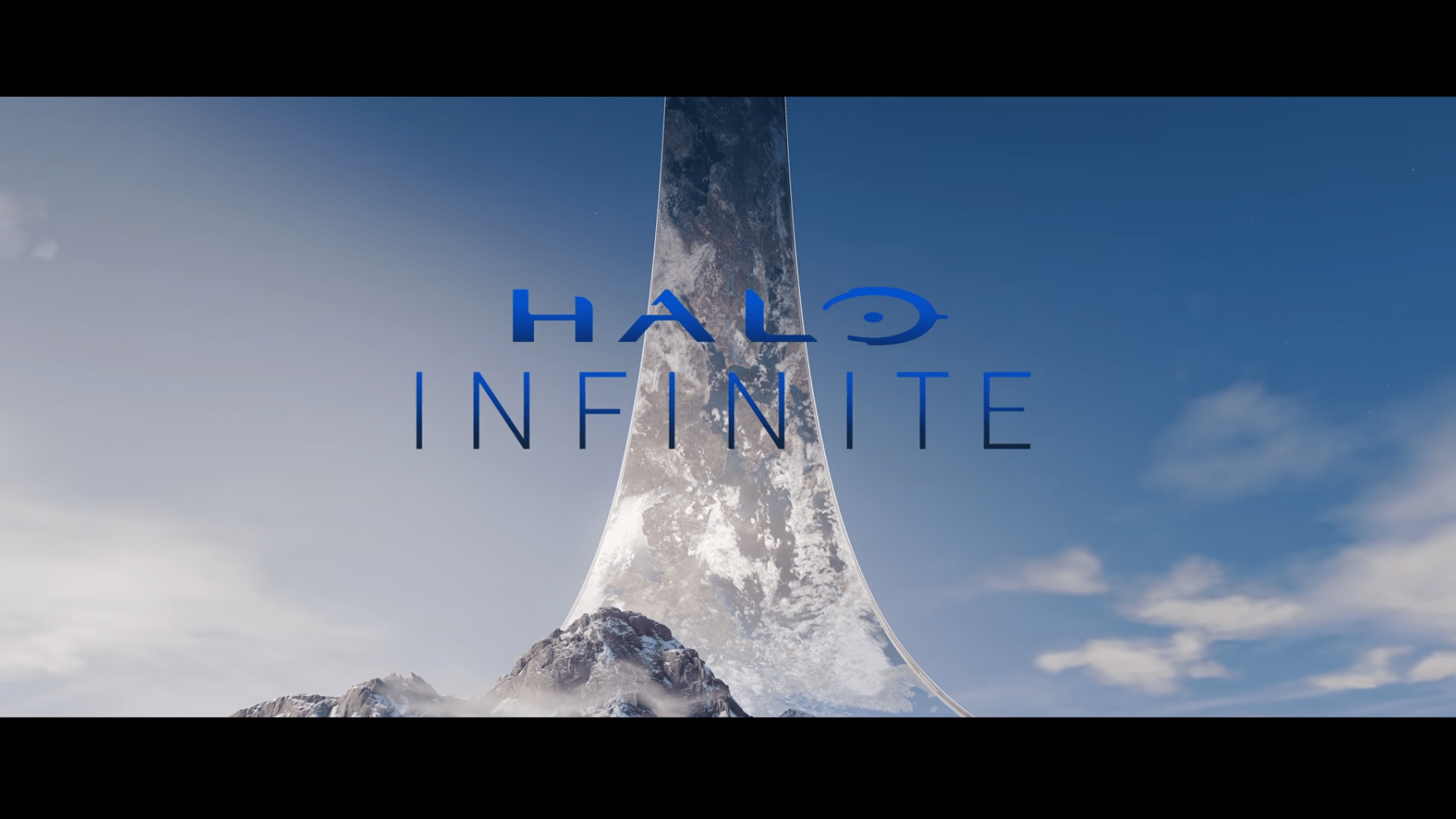 When will Halo Infinite Release to the public?
It has been said that Halo Infinite will release sometime in the holiday of 2020. Further reports elaborate further, suggesting the release date is somewhere in December of 2020.
Our first look at Halo Infinite
On the 23rd of July 2020, we got our first look at Halo Infinity gameplay. This event would have previously been held at an E3 event, but due to COVID-19, there was no E3 event. Instead, Microsoft hosted an online Games showcase.
The campaign trailer starts with a brief look at the main menu. The music kicks in, reminding you of the past works of Marty o' Donnell.
The showcase then shows off the Master Chief in all his glory - equipped with the green suit and iconic demeanour.
The showcase shows off weapons of all kinds. The iconic assault rifle makes a return, along with some new additions via the Covenant and Banished weapons.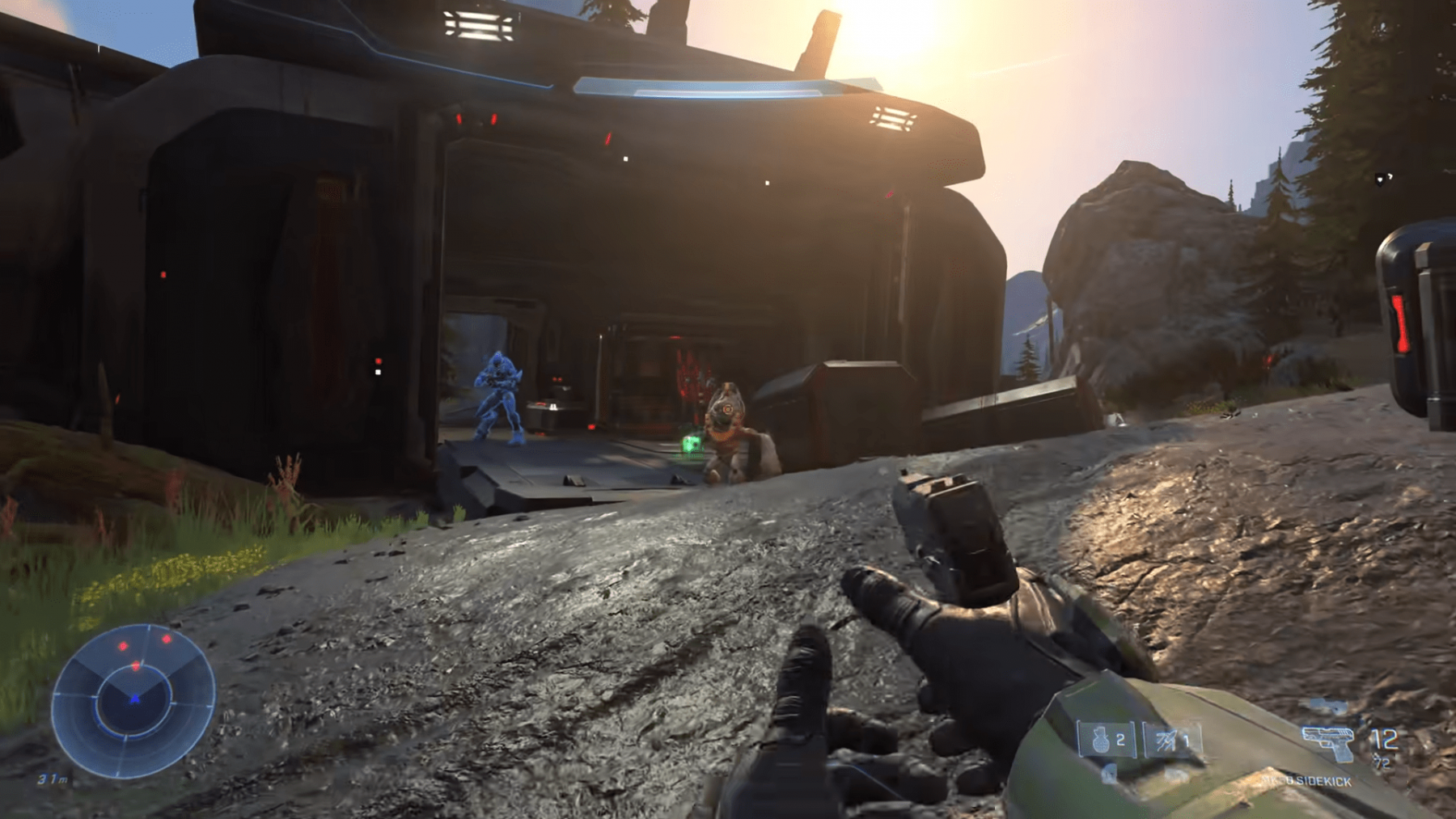 Watch the full showcase here! https://www.youtube.com/watch?v=HZtc5-syeAk
The big change - Open world
Halo Infinite has received mixed opinion over its open world mechanics. Halo has never taken the Open world route before, so there are people skeptical about whether 343 Industries can pull this off or not.
The world is full of life, with enemies and weapons to find. The game also has some interactive wildlife for sightseeing!
Taking a look at the brief moment the Open World map was opened in the showcase we can see that the map has some huge potential for various optional objectives, collectables, achievements and replayability.
The area of the map we saw in the showcase was a few hours into the games campaign. Chris Lee, studio head at 343, stated that "What you saw in the demo that we showed, you have this map. There's this huge open section of the ring. As you get to that point in the game, this is several hours into the campaign, then you have the ability to traverse that whole area and explore where you want to go on the ring,".
"That's what we mean by open and explore the different places that you can go to. There's definitely a sense of freedom that you haven't had before [in Halo]. You will get to choose your path there. But we do also want to tell that story, so while you're doing that we want to keep the story moving forward versus like a nonlinear story or something like that."
Creative Director Paul Crocker also stated that "You'll be pulled to some of these locations as well, which you could say is story-based. It's also what the franchise is about. We really are trying to make sure there are things for Chief to do that reinforce the heroism and the hope he brings to humanity and those are pretty strong draws around the world,"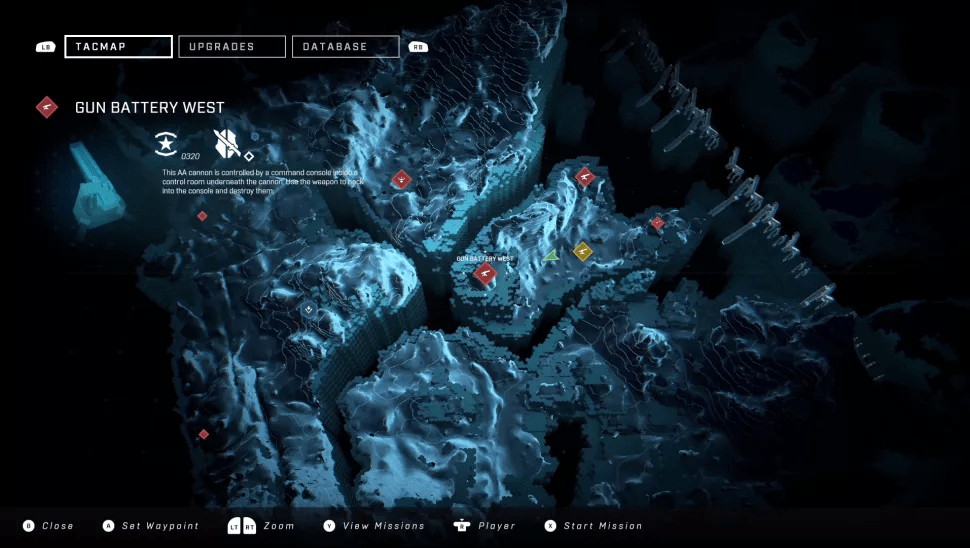 Halo Infinite Multiplayer
Recently, an announcement came out stating that Halo Infinity would have a free to play multiplayer.
Coupled with this information, it was also announced that the game will be the last of its kind for a long time. It will be a running project with updates and support for the next ten years. It is being treated as less of a single game and more of an evolving one. Microsoft also announced that the multiplayer mode will support up to 120FPS for the Xbox Series X.
"The legendary Halo series returns with the most expansive Master Chief campaign yet and a groundbreaking free-to-play multiplayer experience," read the listing. "Enjoy up to 120 FPS and greatly reduced load times creating seamless gameplay with Xbox Series X."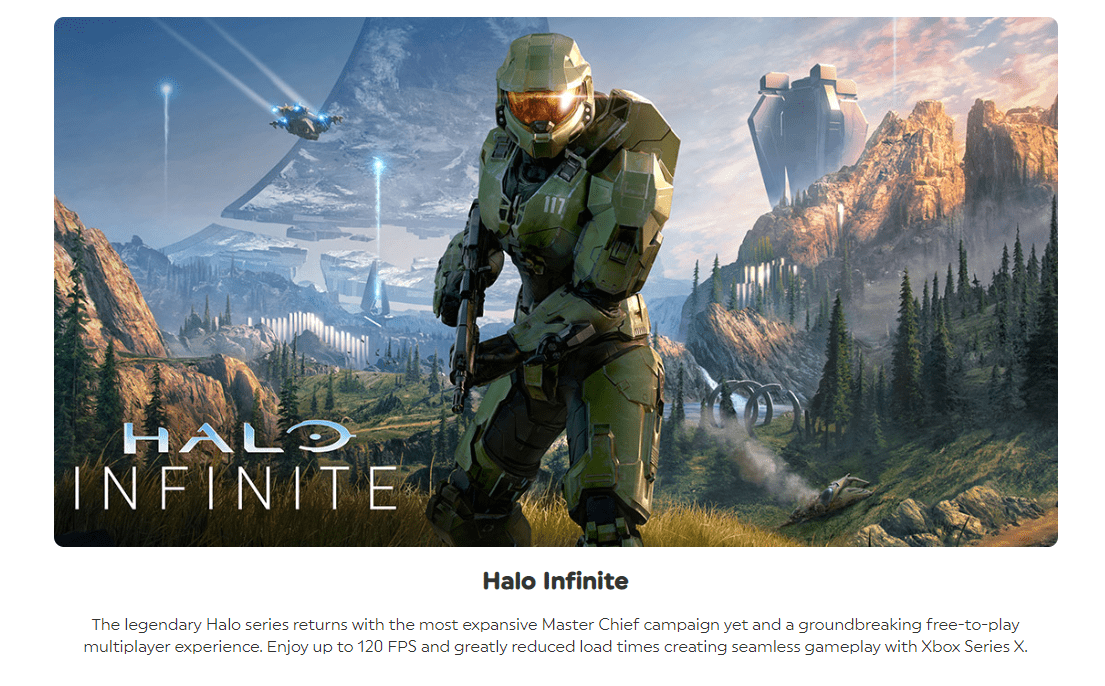 Preparing your Aim for Halo Infinite Multiplayer
Aiming.Pro is a free aim trainer, built to help players like you maximise their potential. Our trainer comes with a wide set of features built specifically to help you analyse your aim, notice your strengths and iron out those weaknesses. We want you to be a part of that too!
Head over to the site at https://aiming.pro/app/#/dashboard. We always recommend you login and make an account. With an account, you gain a bunch of now features on the site.
You are put into our ranking system, where you can see where you stack up against the world. Your skill is measured by our accurate metrics once you have played through each skill assessment drill at least one time. Each target assessment is measured as they are the primary skills, so by heading to your profile, you can view these scores with convenience!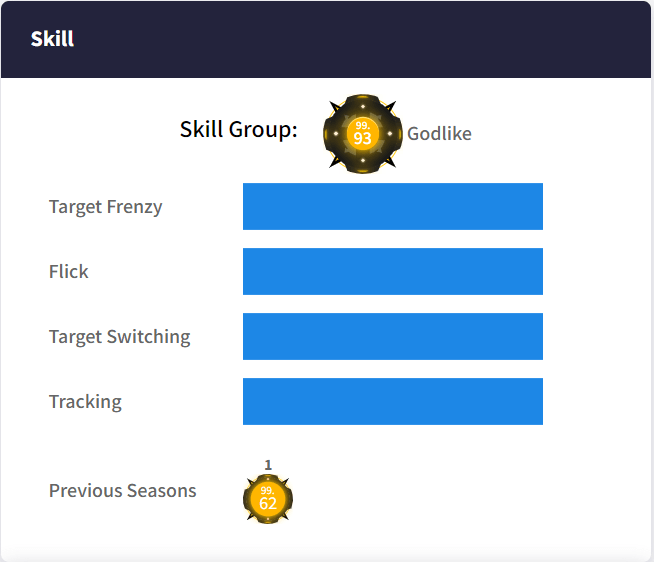 You are able to see your training progress with our state of the art progress tracker. This progress tracker is easy and convenient as you are able to hover over any of the drills you have played and check the score quickly, without having to navigate the menus. You can also click on that particular drill and the site will take you right to the page that Drill is located at. This means you can hop right in and play the game!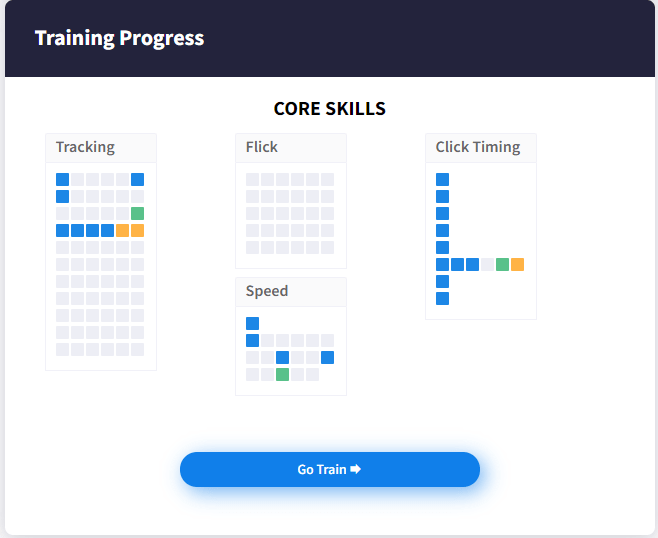 Your profile also comes equipped with an easy to preview statistics sheet. This sheet contains a list of metrics that revolve around the nature of your playing habits and just general information about yourself as you take this journey. These metrics are updated regularly, and as follows:
Games played: The total Amount of Drills you have played to completion
Shots Fired: The total amount of bullets fired/button presses clicked in your lifetime
Targets Destroyed: The amount of targets you have destroyed in your lifetime
Mouse Sensitivity: the Mouse sensitivity you set in Aiming.Pro will be updated here too
FOV: This is your current Field Of View. This is also regularly updated
Country: The country where you are from
Main Game: This is the main game you currently play. A good metric to fill in if you are a professional player!
Discord name: If you want people to contact you for any reason, you can drop your discord here!
Weekly - Top 1: This is how many times you have reached first place in the weekly challenge
Weekly - Top 10: This is how many times you have reached at least tenth place in the weekly challenge
Member Since: The date your account was created


With an Aiming.Pro plus subscription, you can choose to create your own custom games with our intuitive builder. Stats related to this feature are also tracked.
Custom Games Created: The amount of Custom Games you have created on the site
Custom Game Plays: This is how many people have played your custom games in the past 30 days
Playlists Created: How many playlists you have created on the site
Playlist Plays: How many people have played your playlists in the past 30 days
This is just a small benefit received by creating an account, so login here! https://aiming.pro/app/#/dashboard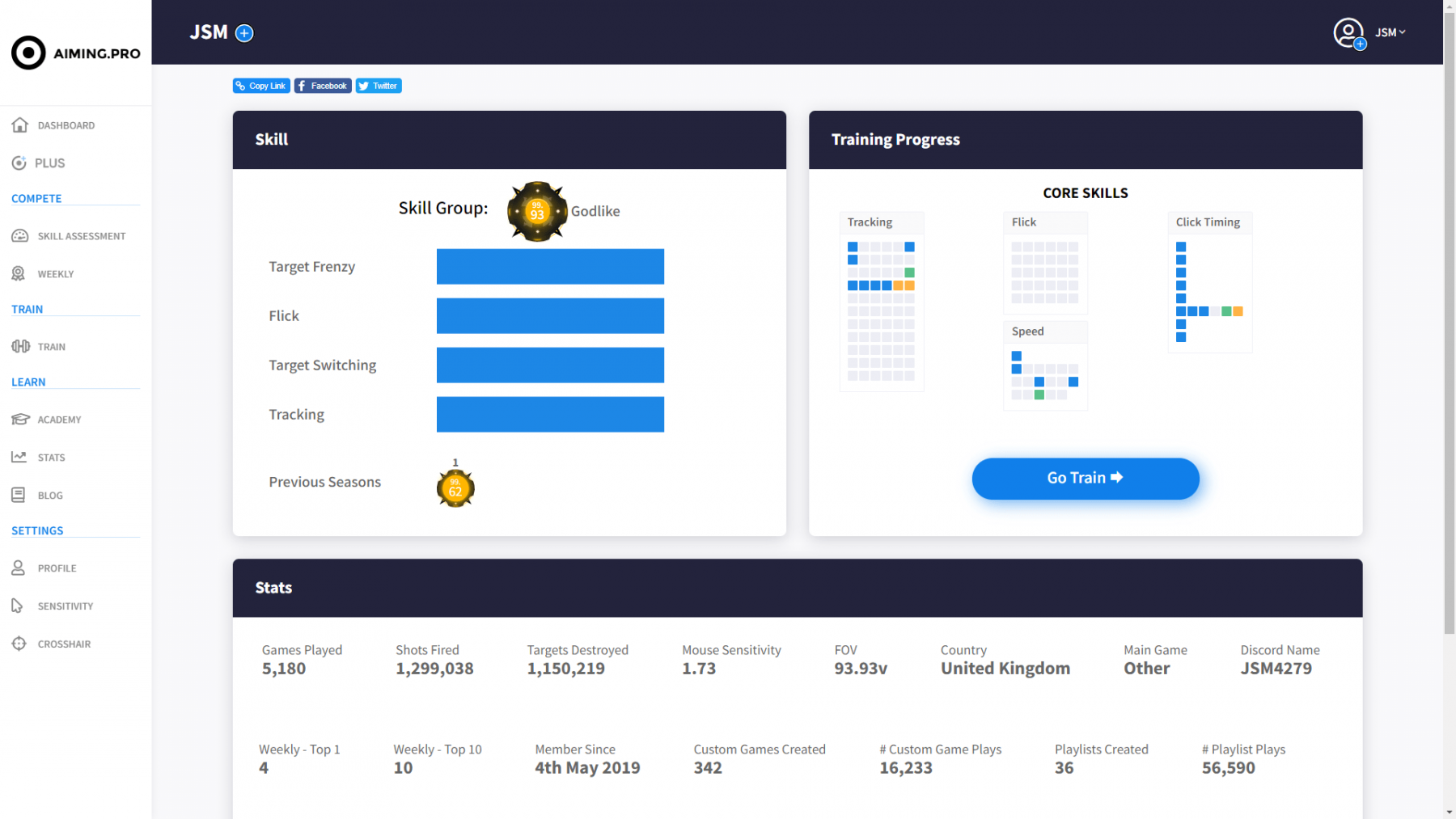 Setting up your perfect sensitivity
You can get the sensitivity from any of your favourite games, directly into Aiming.Pro. This feature is hugely important for keeping a consistent feel as you switch from your game of choice, right into the aim trainer and vice versa.
Firstly, navigate to the "Sensitivity" settings on the Navigation bar, located at the bottom left. You will be redirected to the sensitivity page where you can now begin to tweak your sensitivity and FOV options.
Select the dropdown menu and choose your game of choice as the game. After this, input your mouse sensitivity from the game right into the aim trainer.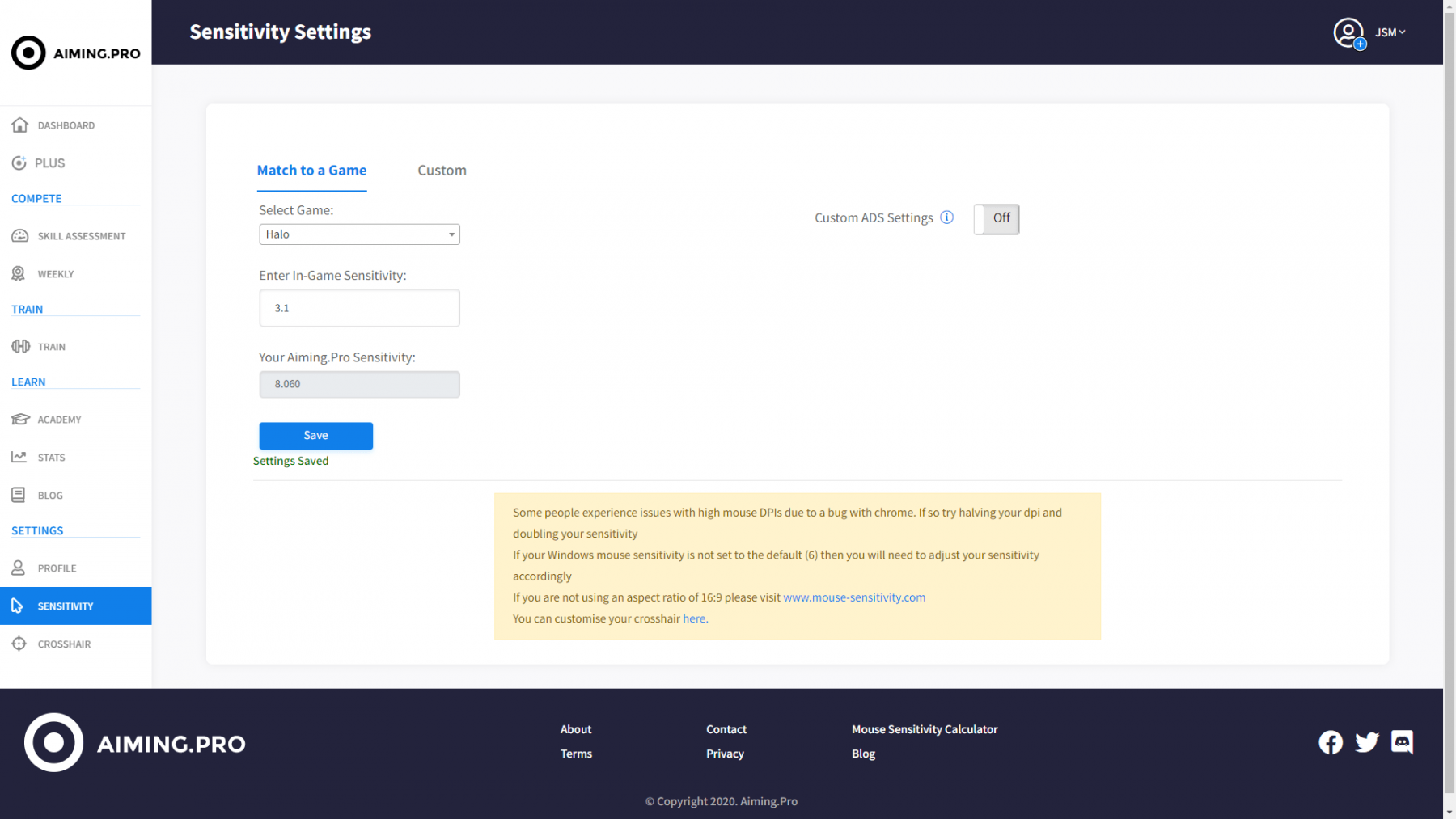 The next step is to take your custom Aiming.Pro sensitivity and copy it. Keep it in the clipboard as you switch over to the "Custom" option on the page.
From here, input your custom Aiming.Pro sensitivity directly into the Custom sensitivity box. This will ensure that the sensitivity between both games is now consistent, which will keep your aim preserved for whatever you are trying to learn.
After that, tweak the FOV to match the FOV you use in the game. MAke sure that you choose the right type of FOV conversion. Horizontal FOV does not equal the same value as Vertical FOV. For example, 106.26HFOV is equal to 73.74VFOV.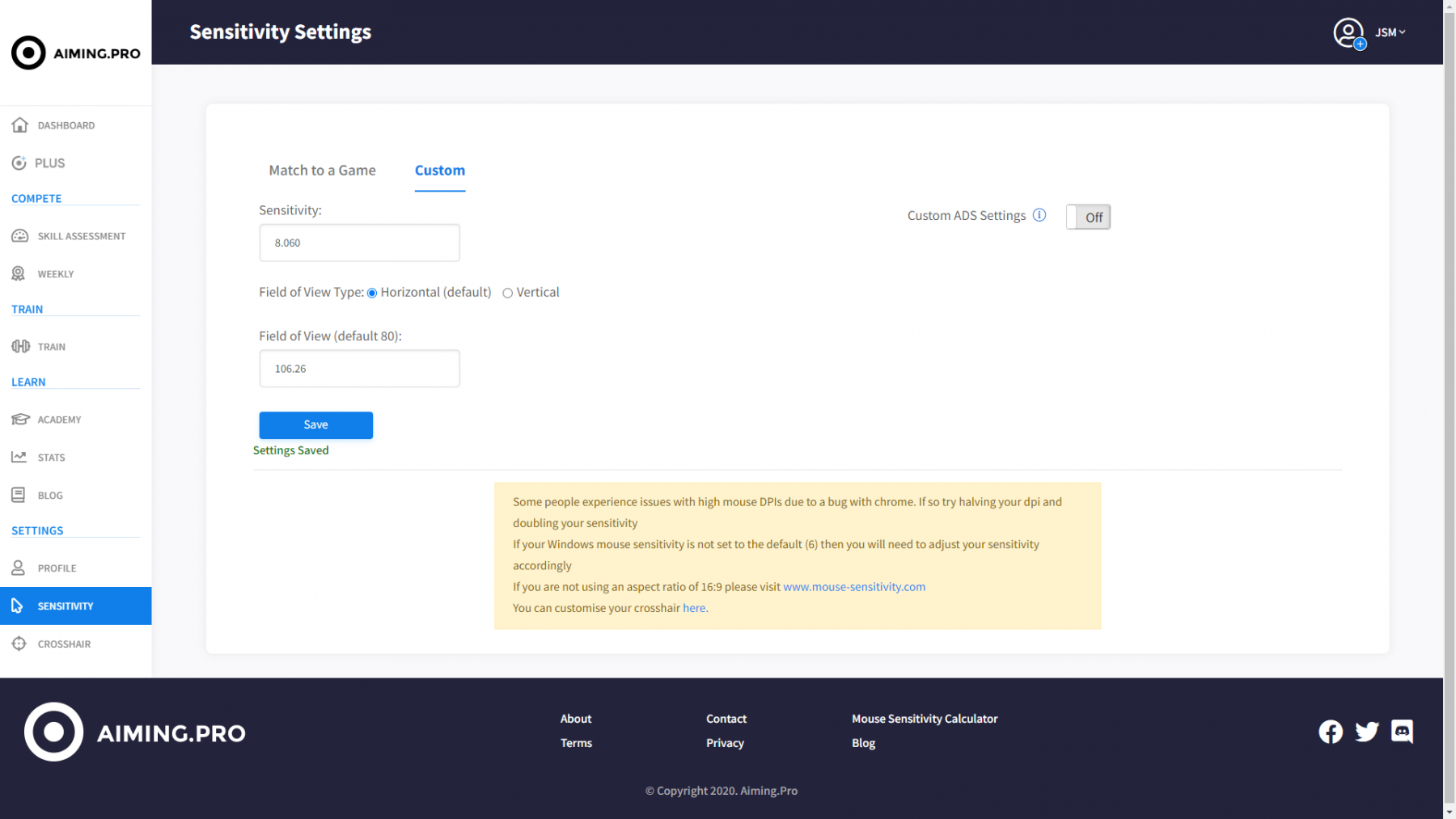 Make sure to save all your changes - now you are ready to begin aim training!
Measuring your current performance
You need to understand your current skills. This means understanding not only your strong points, but also your weak ones. This will give you a good gauge on what to train next!
Go to the Skill Assessment page, which can be found on the Dashboard. You will be met with a series of skill assessment Drills and Categories.
The categories are as follows:
Overall - A combination of most general skills
Tracking - A focus of smooth tracking, reactive tracking and Directional Tracking
Flick - A focus on fast and precise movements to single targets
Click - Heavy emphasis on speed, calibration and mouse control
Speed - A category for all the speed demons who want to focus on speed, efficient movement and quick cognitive processing
We recommend you start with the overall category, as this category focuses on elements from all aspects of mechanical aiming. Play each scenario until you are sure you are at least warmed up or performing at your best. Read these metrics and keep in mind what your weak and strong points are!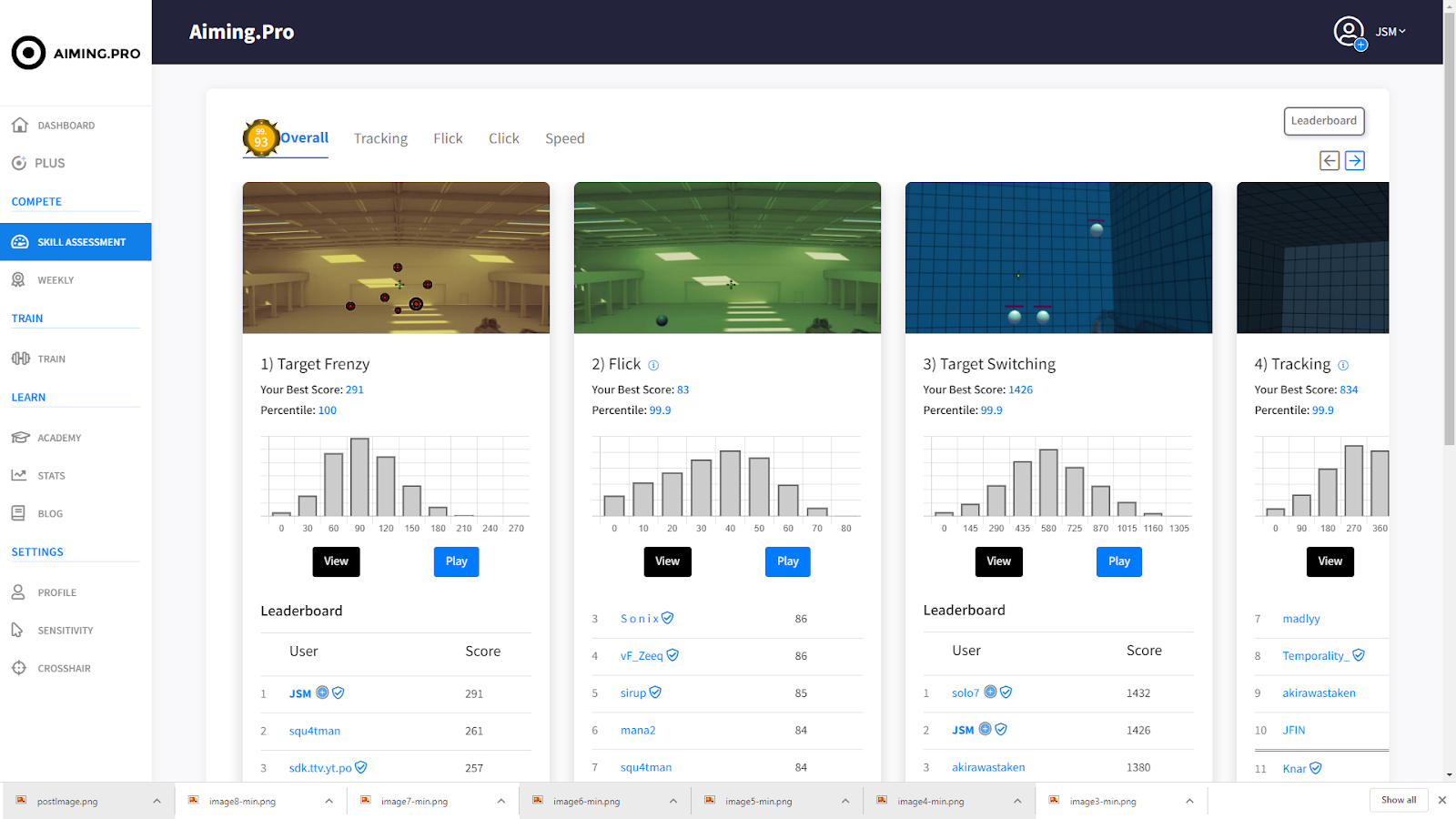 Training your Core Skills
Aiming involves many different skills, many different series of skills in combination and many continua on which to judge that skill. For example, some aiming elements involve more click-timing and tracking, and some involve more target switching and flicking. We at aiming.pro want to maximise your potential, focusing on the areas of aiming that are important!
To do this, go to the "Train" Section of the site. This can be seen on the left side where the Dashboard is.
You will be met with the core skills categories.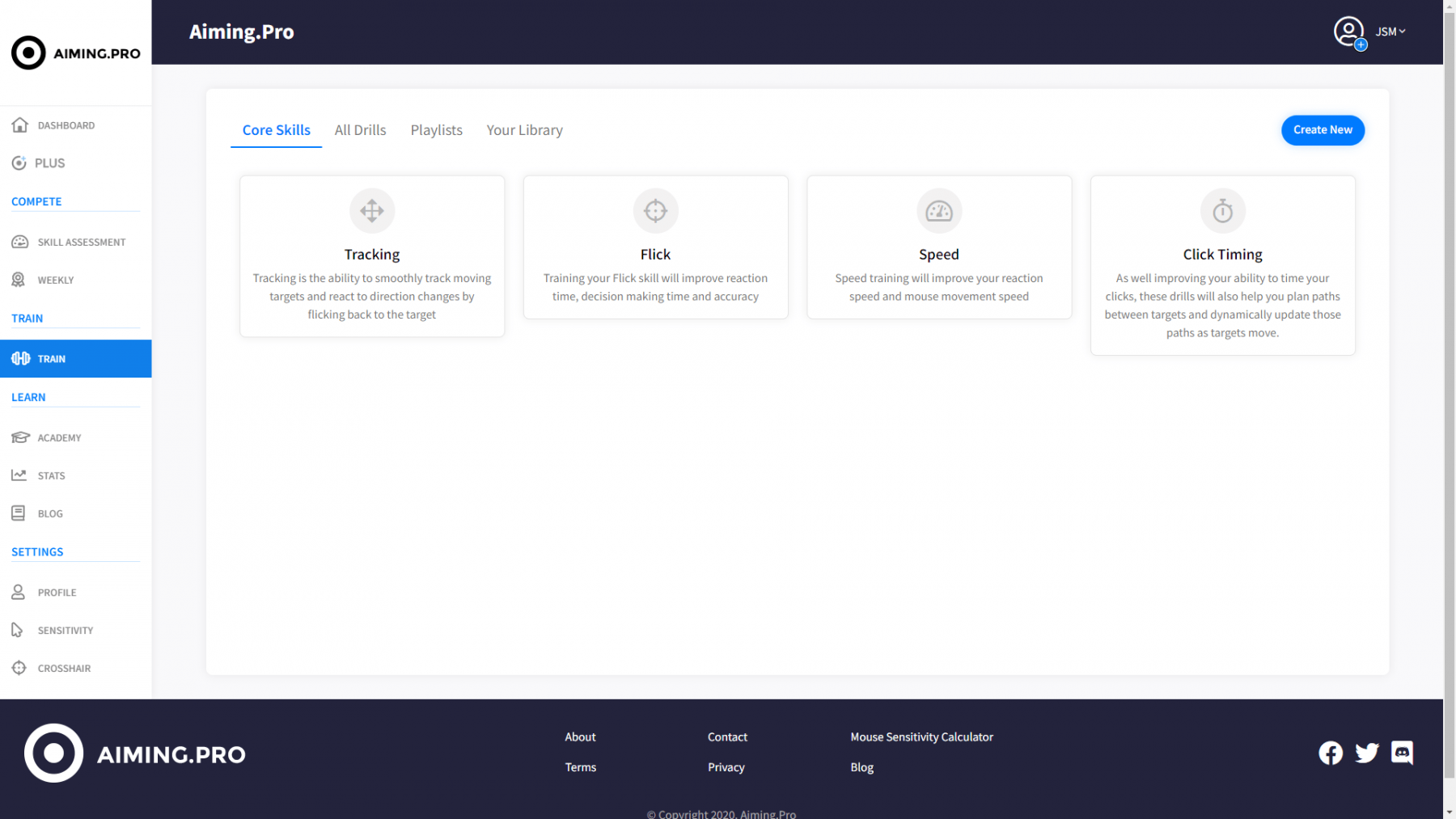 Depending on how you feel, or what your biggest weakness was, we recommend starting in that category. For example, let's say that we need to focus more on tracking; What you can do is go into the list of Tracking categories, where you will be met with 3 subcategories.
Smoothness focuses on ensuring you are making smooth movements when tracking a target. This is a hugely fundamental skill which will ensure the maximum potential of learning complex skills
Reactivity forces you to react to unpredictable target movement instead of trying to guess when the target will change direction. A more complex skill and very necessary to learn!
Prediction - This skill is a little easier than reactivity, helping you focus on making the correct adjustments rather than reactive to changes in movement.
You have a set of difficulty levels for each game which you can change with the difficulty slider. Choose Difficulty 1 first and make your way up the ranks, aiming for the target goals set by the scenario.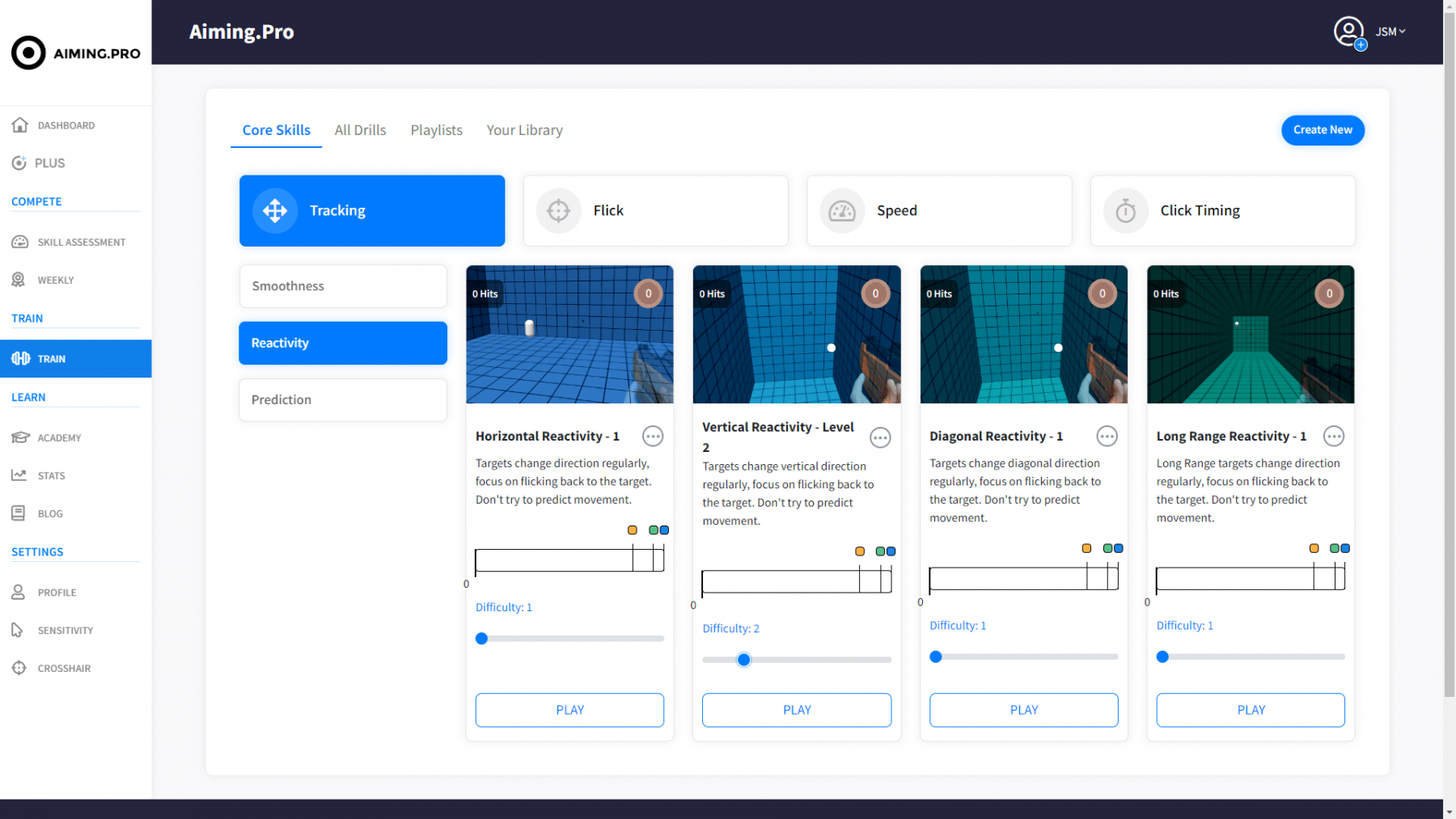 Custom Drills and Playlists
Aside the Skill Builder is a list of Drills and Playlists that have been entirely custom built by the awesome community we have. You can choose between "All Drills" or "All playlists". You may browse them with the custom search filters which filter out by one of two ways: Either by name or the category of which the Drill fits into.
This lets you browse for the game modes that are just right for you. You can choose all of the main Game Types, apply them to the search filter and see a more focused set of Drills or Playlists for you.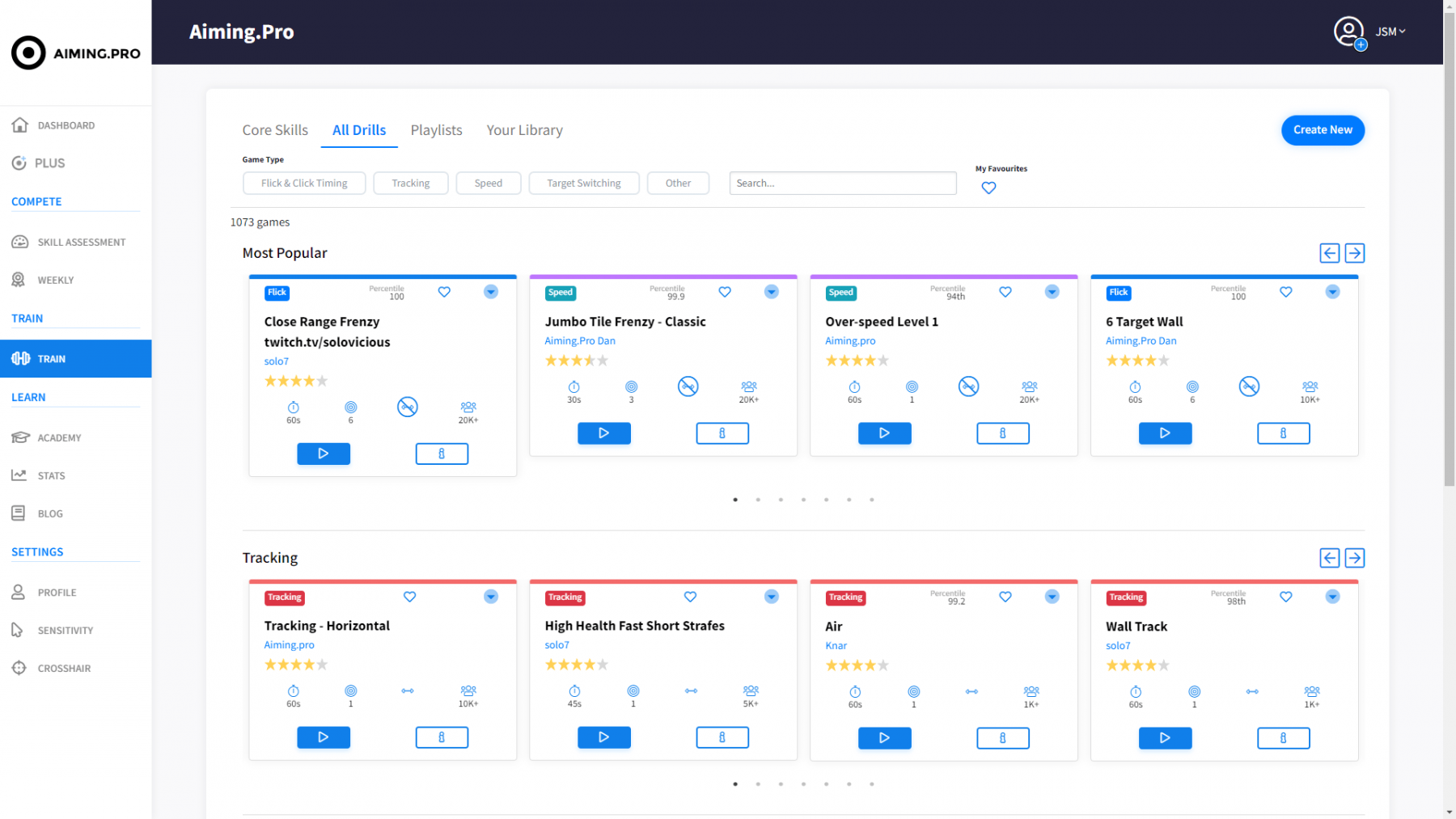 Each Drill has its own leaderboard. This allows you to track your best performances against the best performances of others, which is a great guage to see where you stack up against the rest of the world!
All you need to do is hit the view button. From here, you can check the properties and parameters of the gamemode as well as the leaderboard!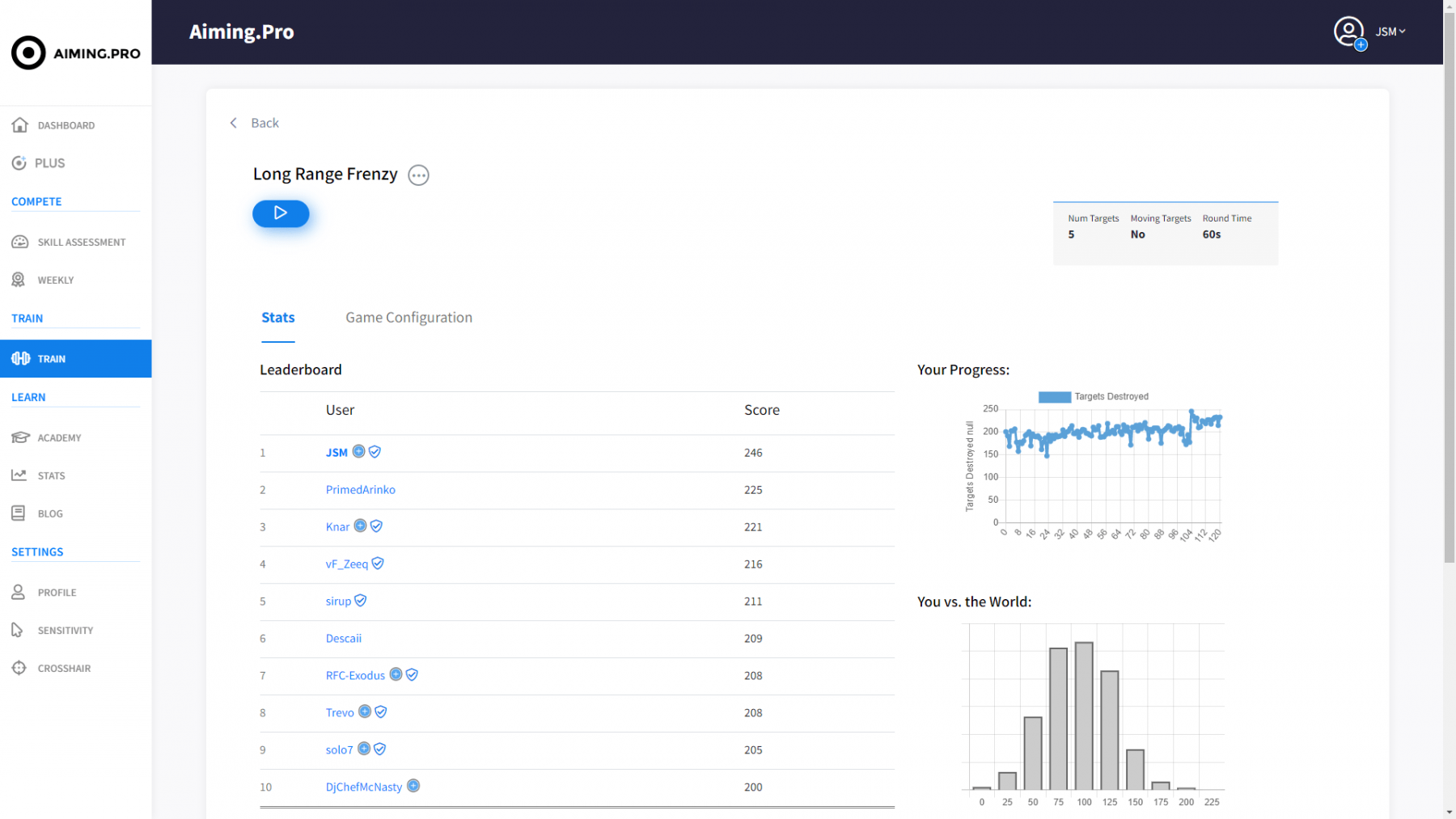 If you really want to tailor your experience and create the perfect aiming routine, you can sign up to aiming.pro and subscribe to get a Plus membership. This, along with a plethora of other benefits, will allow you to create your own custom games, choosing from a wide set of features!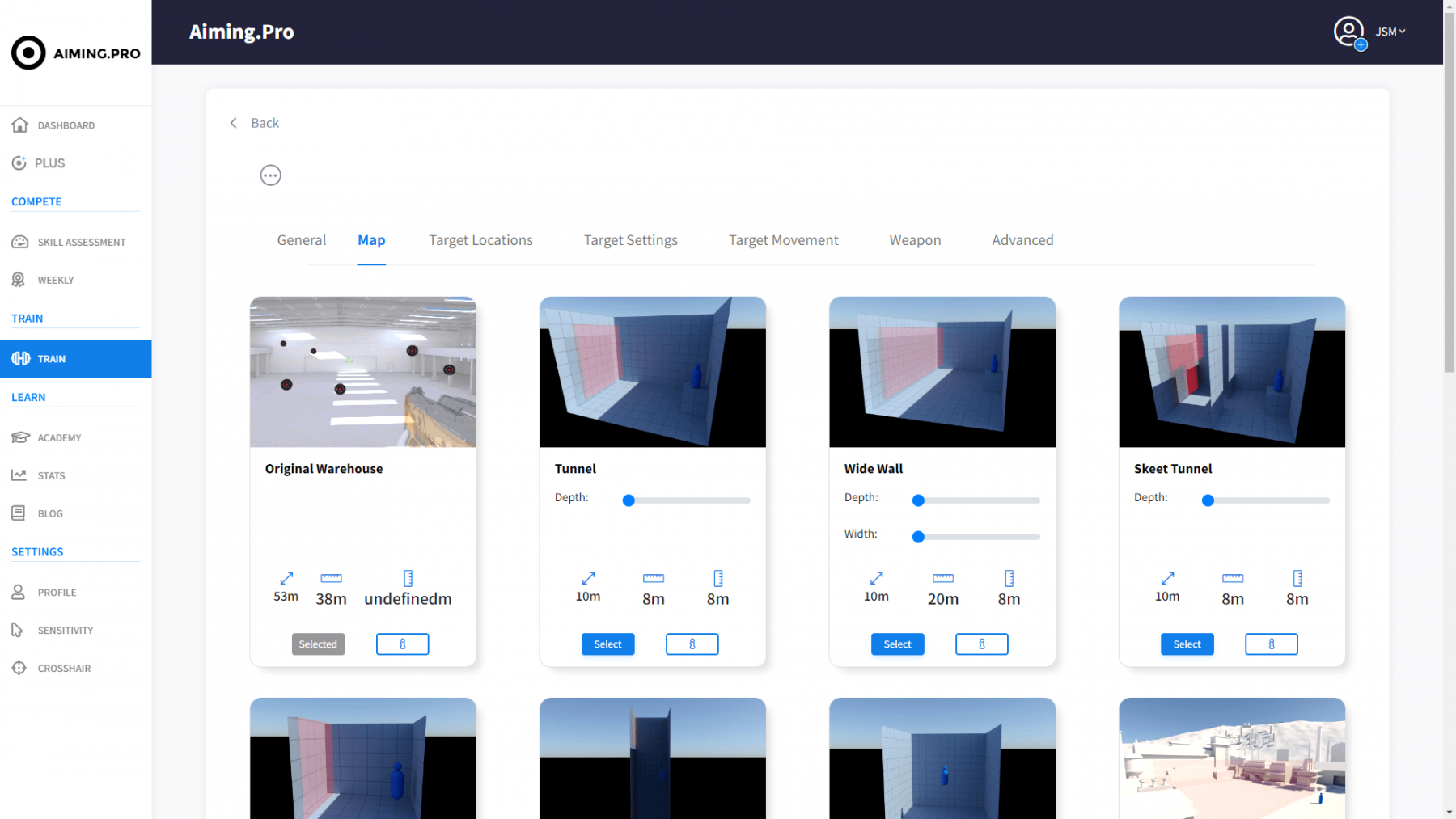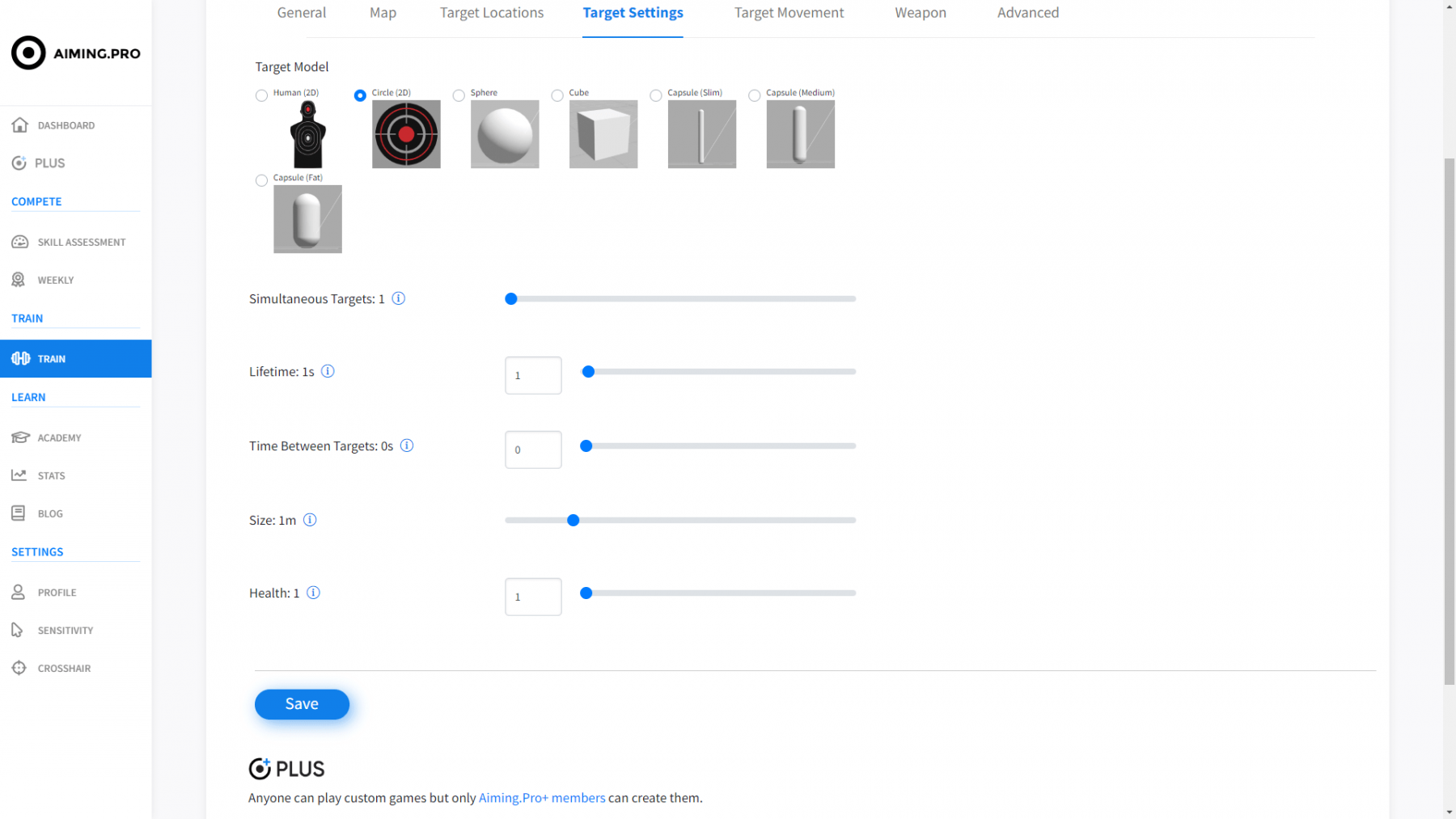 Come join us at Aiming.Pro
Our community is growing everyday. We all share a passion in improvement, progress and perseverance.
Come connect with new people, find teammates for your favourite games, or ask for support
Our team, moderators and aimers alike will always be around!



Join us on Discord!





Follow us on Twitter!