Improve your Aim in Valorant
Valorant is hard. Riot's 5 v 5 character-based fps requires skill, speed and incredible aim to be competitive. It's an awful lot of fun but the margin for error is low- misplace your shot and you might find yourself a spectator. More than any game since CS:GO, practice is rewarded. Not only will you be more competitive, but you will stay alive for longer and have a lot more fun. In this guide, we're going to help with that.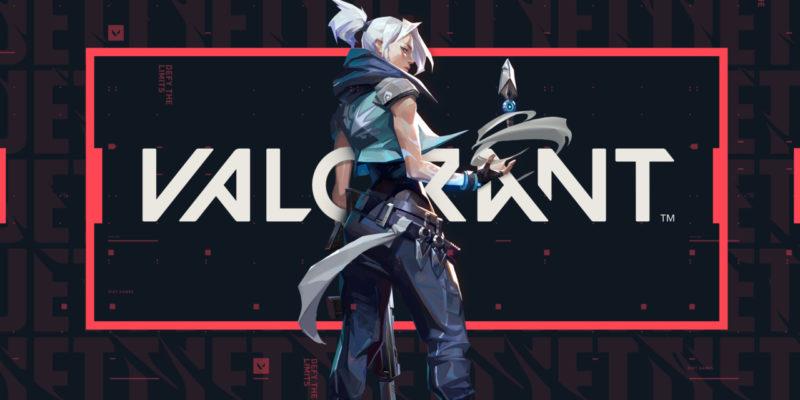 In this article, I am going to give you some practical advice about how you can quickly improve your aim in Valorant. The first section will give you some tips about how you can improve immediately without any hard work or practice.
The second section will cover the basics of aiming technique.
The third section will focus on how to improve your aim through practice and training. Needless to say, if you want to get to pro levels this is essential. You won't get there through just playing games of Valorant. Many of the best FPS game players spend hours on dedicated practice (as you would in any other sport).
Getting Set Up
Can your hardware and set up make a difference to performance? Yes. We won't bother with all the 'it depends' stuff. Instead, we will make some recommendations and if you want to know more, then follow the links provided
Mouse Sensitivity
Use a sensitivity that falls somewhere between 28 and 38cm (11" - 15") per 360-degree turn. That is, moving your mouse this distance should result in a full 360-degree turn.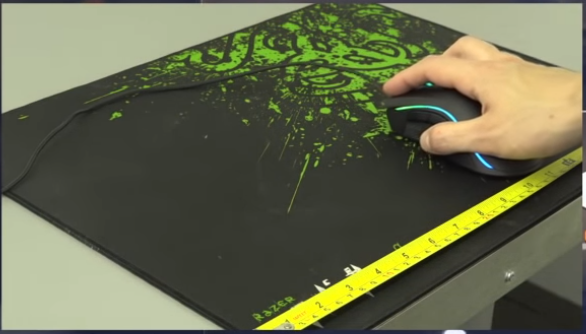 Check this out for help with getting this setup.
This range of sensitivity offers the optimum balance of precision and speed. Lower than this and you will struggle to deal with enemies behind you. Higher than this and you will lose precision in your aim. For Valorant, we recommend something towards the higher end of this range as the playstyle is a lot closer to, say, CS:GO than Overwatch. Precision is more important than fast turns.
Don't worry about the effects of changing your sensitivity if you currently have it set too high or too low. It's been shown that the time required to adapt to a new sensitivity is very low (certainly less than an hour). Nonetheless, after settling on a sensitivity you want to keep it consistent when practising. You can do this using a sensitivity convertor (such as this one) to match it between games.
Mouse DPI
A gaming mouse is a must but all you need is a maximum of 1,400 DPI (or CPI) if you play on a standard 1920x1080 screen, any more than this won't translate to real-life improvement. Even ultra-high resolution screens max-out at 2,800 DPI. Here's why. All gaming mice will offer this level of resolution but non-gaming mice won't.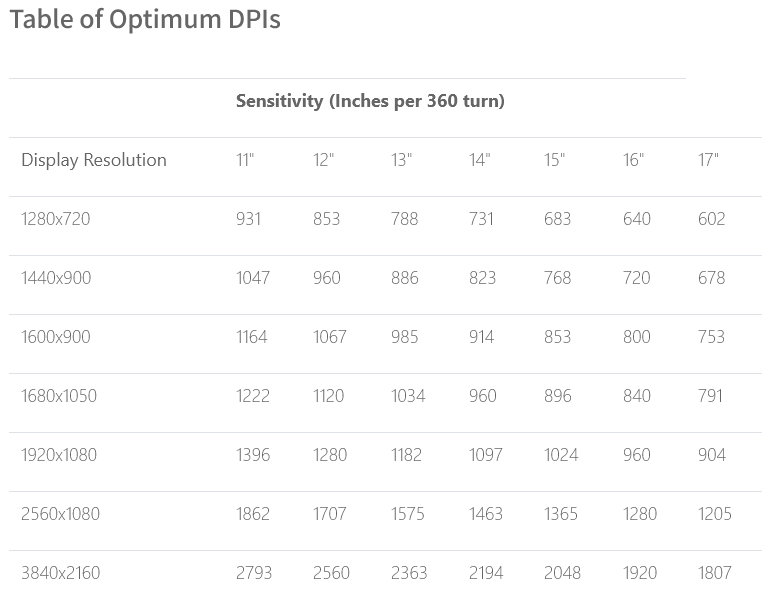 Mouse Mat
This needs to be wide enough to allow a full 180 turn without having to lift your mouse. Having to lift your mouse to deal with enemies behind you will cost you valuable time. So if your sensitivity is set to 30cm (12 inch) per 360 then you need at least a 30cm wide mouse mat. Some people like slightly larger ones as your mouse often won't be in the middle when you start your turn.
Internet Connection
The average human reaction time is 250ms. A poor internet connection can add many milliseconds on top of this. There are two elements to this - the latency between your laptop and router and the latency between your router and the rest of the internet.
Check your Latency/Ping
This is how long data takes to get from your laptop to your router. To test this on Windows open a command prompt by:
Clicking the Start Menu
Typing CMD and hit Enter
Enter this:
tracert google.com
We are interested in the second two lines.
The second line shows you the latency between your computer and your router.
The third line shows you the latency between your router and your internet service provider.
(Note: the exact lines to look for will vary depending on your network set up.)

Router Latency
These should always be less than 10ms. If you are plugged in directly via network cable it should be 1ms. Here is what you can do to reduce these numbers:
If you are on wifi, move closer or change the location of router
Get a better router - the ones provided by your isp often don't have great coverage
Change channels if you have lots of wifi devices using the same router
The best thing to do is to plug straight into the router
ISP Latency (Ping)
A good ping is less than 50ms. Less than 100ms is playable but anything higher than that is going to put you at a significant disadvantage.
Try this at several times throughout the day. Pings are normally higher in the evening when everyone starts hitting up Netflix.
Here is what you can do to improve this time:
Make sure no-one else on your router is heavily using the internet. File sharing, in particular, can ruin your latency. Same with lots of HD streaming
Change internet providers - switching to fibre make a huge difference
If you are having major service issues then contact your service provider
Grip and Posture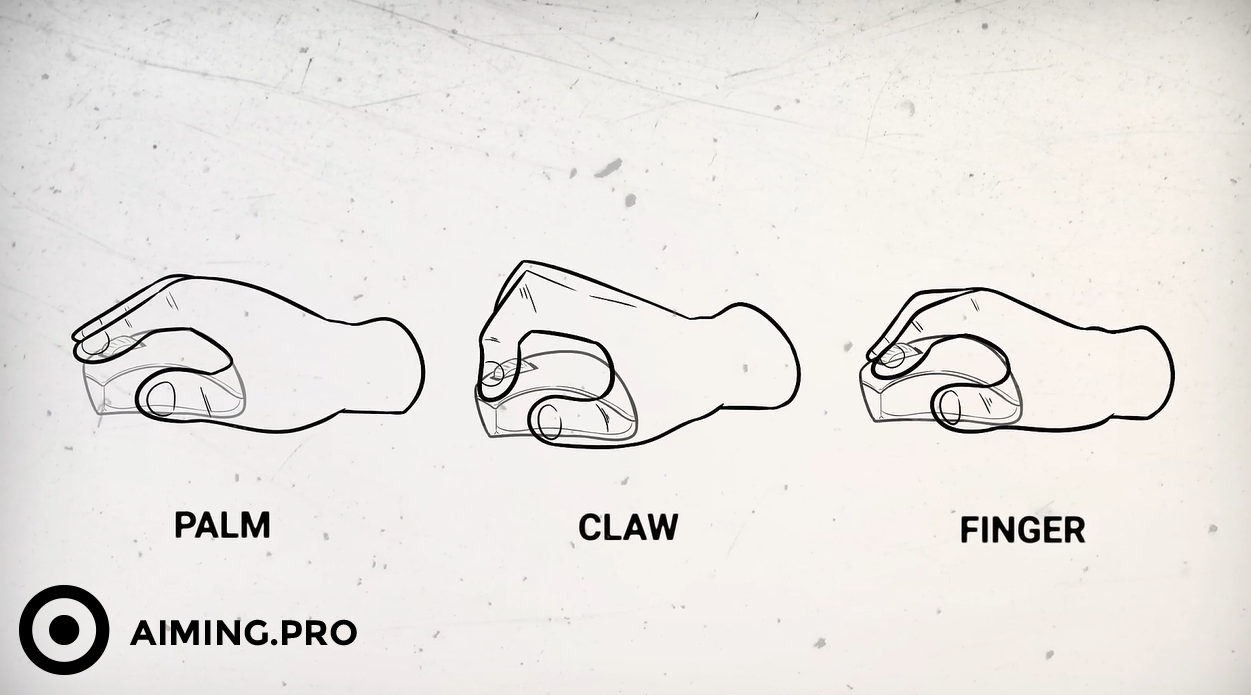 There are three main types of mouse grip. Palm, claw, and finger.
Palm is the most comfortable, allowing you to rest your entire hand on the mouse. Finger allows a larger range of movement through the fingers.
There are no established best practices for mouse grip and lots of players are successful with a wide range of grips, however if you are unsure about where to start, we recommend the claw grip as it offers a good balance between comfort, endurance and precision (allowing slight access to the fingers for subtle aiming adjustments).
Make sure you check which grip type your mouse is designed for.
A few suggestions about your mouse grip:
Many players report benefits from pressing their thumb and little finger into the side of the mouse. You want the mouse to feel like it is part of your hand
When in a neutral position, try to keep your hand straight relative to your arm. This ensures that you are ready to aim in both directions and will help avoid injury.
Set your Pivot Point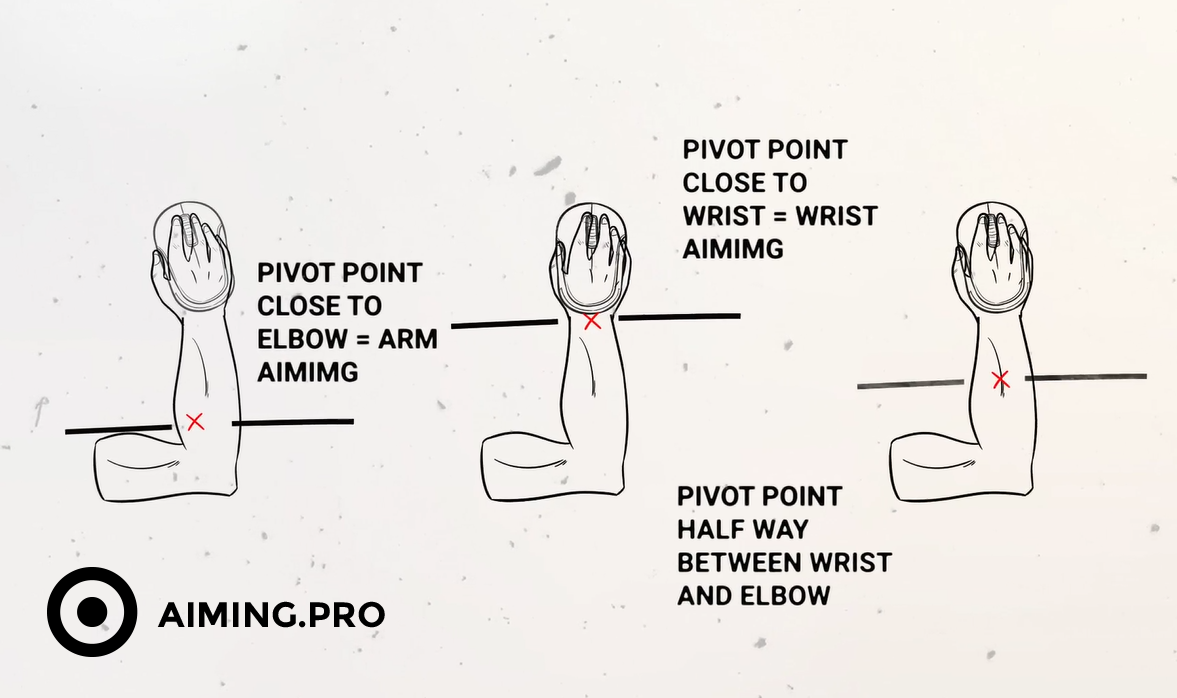 Establishing a pivot point is essential to building consistent aim.
In high-accuracy sports, a pivot point is used to simplify movement and reduce the opportunity for error.
Limiting movement to one pivot makes it much harder to perform a movement incorrectly.
For mouse aiming, the pivot point will be a point between your wrist and elbow that maintains continuous contact with your desk. When aiming side to side you rotate around this point.
It provides a consistent neutral position that you can easily reset back to.
You can choose a pivot point anywhere between your wrist and your elbow. A pivot point close to your wrist will lead to a wrist-aiming technique and require a high sensitivity.
A pivot point close to your elbow will lead to an arm aiming technique and require a low sensitivity.
We recommend a pivot about half way between your wrist and elbow which will lead to arm aiming for larger movements and wrist aiming for smaller ones.
This is the most common technique amongst pros and avoids many of the disadvantages associated with a wrist only or arm only technique. Namely:
- Avoids the injury risks of exclusive wrist aiming
- Better endurance - wrist muscles are small and fatigue faster
- Easier to learn as it avoids small movements with the arm and large movements with the wrist
- Allows you to use a versatile, balanced sensitivity
Feel free to use whatever pivot your prefer. The most important thing is to choose one and stick with it - consistency is key.
Keep your Mouse Neutral
In Valorant, most of your wrist movements will be on the horizontal plane (i.e. side-to-side). Keeping your wrist neutral allows for maximum fluency for minor aiming adjustments. If your wrist is cocked you will lose this ability in one direction.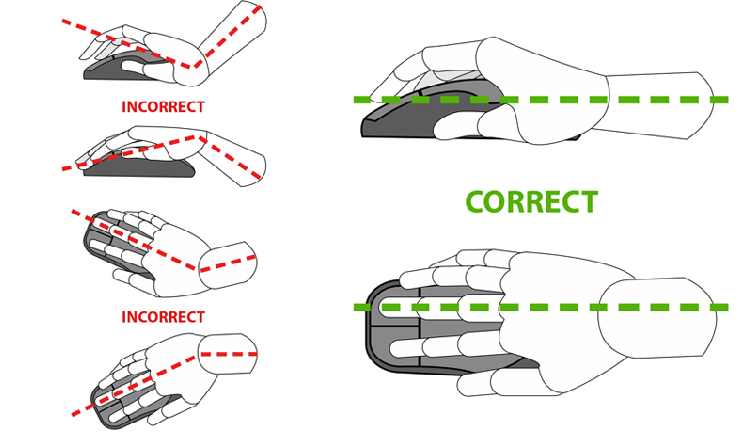 Elbow Height to Desk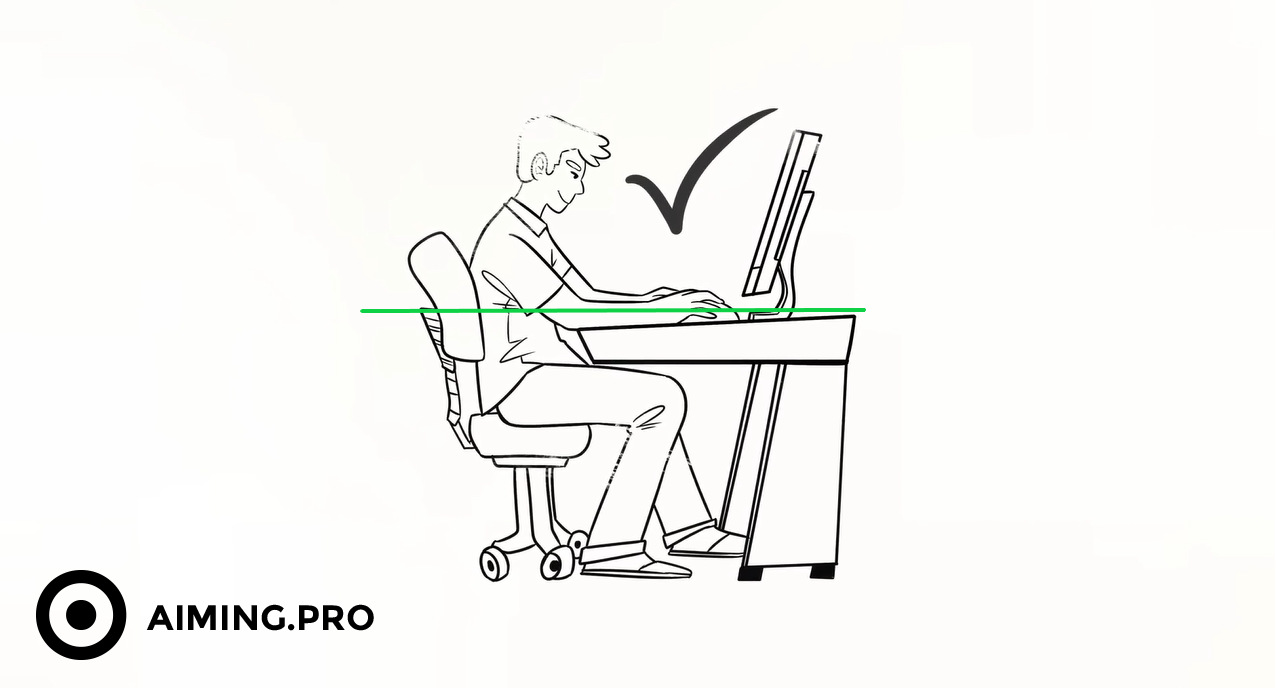 Having the correct elbow height, relative to your desk is critical to ensuring your pivot point operates correctly. Ensure that your elbow is at the same level or slightly below your mouse.
If the elbow is too high, your pivot point will lift off the table and cause extension in your wrist, creating discomfort and limiting your range of movement.
If the elbow is too low, it will put extra pressure on your pivot point and cause flexion in your wrist.
To set the correct elbow height start with it high and lower until you feel a gentle pressure on your pivot point. Adjust the height of your chair or desk until you feel well supported in this position.
Practice, Practice, Practice Your Aim
Whilst tips and tricks can give you an advantage, there is no avoiding the need for deliberate practice. Playing 40 hours of Valorant a week is not sufficient on its own to get you to elite levels. You need deliberate practice.
Deliberate practice is not just playing games, it is practising specific skills in a systematic and planned way with the specific goal of skill development. Often it is not fun, often it is hard but it is essential to make a step up in skill level.
Pro athletes in most sports spend over 80% of their time practising and training vs. playing. Obviously, it's not practical for most gamers to do this, but I'd speculate that most people spend less than 10% of their time practising.
So the first step is to be disciplined about practising. Don't expect it to be fun but do it anyway. Get into a routine - we recommend starting with around 10 minutes every day - ideally before you jump into a game. Your practice can double up as a warm-up. Many serious gamers will spend over an hour a day on deliberate practice.
The need for deliberate practise is particularly relevant to Valorant. In a game like Overwatch, you'll spend a lot of time-fighting. In theory, if you were disciplined, you could engage in deliberate practice in-game.
This isn't so true for Valorant as the ratio of fighting time to playing time is very low. With the time spent between rounds and the short fight durations, over the course of a 10-minute game you might only spend 1-minute actually aiming and shooting. That is really inefficient.
What to Practice?
There are four areas of aim technique to practice in Valorant - Flick (or Click Timing), Tracking, Target Acquisition and Speed.
Flick Aiming is a quick snap of the mouse to 'flick' your mouse to your target. Due to the speed involved, it requires an unconscious muscle memory that must be built up over hours of practice. You will subconsciously and automatically be able to convert the on-screen distance to your target into a movement of the mouse. This kind of aiming is most associated with sniper rifles (The Marshall, The Operator, ), single fire pistols (The Sheriff) and shotguns (The Shorty, The Bucky, The Judge). This is sometimes called Click Timing as part of the skill is timing your shot (click) to hit as your crosshair moves over the target.
Tracking Aiming is all about predicting the movement of the enemy and keeping your cross-hair trained over your target as you fire your weapon. This requires precise mouse control skills to make continuous, smooth, subtle movements. In Valorant this is relevant to all automatic fire weapons (basically everything not listed above).
Target Switching is best described as a combination of Tracking and Flick Aiming. It occurs when firing a short burst at one target then switching to another target for another burst. It follows the pattern flick, track, flick, track, etc.
There are two elements to Speed training. Reaction Time which is how quickly you can respond to a stimulus and Quickness which is how fast you can physically move your mouse whilst maintaining control and accuracy. The importance of this in Valorant should be obvious - you need to not only hit your opponent but to do so before they've killed you.
How to Practice
The optimum way to practice these is to isolate the core skills involved and practice them in a controlled way that offers instant feedback on your performance. You also need to be able to track your performance over time to gauge the impact of your practice over time (if you are not improving then you need to find a different way to practice).
To do this, we are going to use the free Aiming.Pro aim training software.

Here are some training drills to train the areas mentioned above. You can play these games directly in the browser, just click play:
Flick
Valorant Two Target II will help you warm-up and improve your flick skills in Valorant. There are two targets at a time which allows you to plan your second flick straight after finishing your first one.
Play now

Target Switching and Headshots
Sheriff Close Quarters II uses a capsule with a head to practice the all important headshots. This drill has moving targets and fire rate matching the Sheriff.
Play now

Click Timing
Valorant Six Target II is a great training mode for practising click timing, lots of fast movement and quick clicks.
Play now

Peeking and room sweeps
Vandal Room Sweeps II is a strafing drill - strafe from side to side clearing out rooms as soon as you round the corner
Play now

Further Training
There are lots more training drills, routines and even a full interactive training course over at the Aiming.Pro aim trainer. So head over there and take the skill assessment to see how our current skill compares to the rest of the world: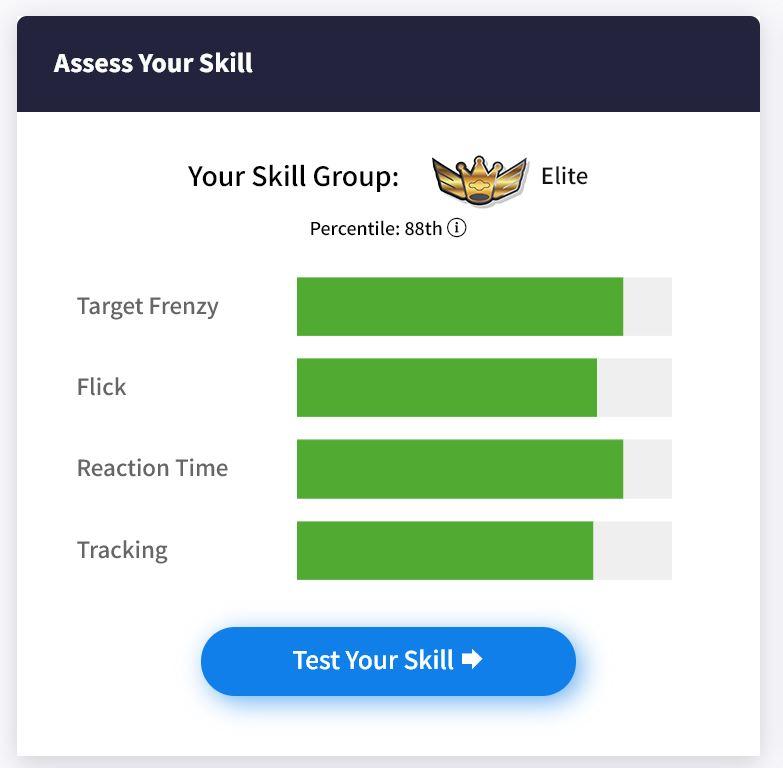 Conclusion
There are some quick tricks you can use to improve your aim. If you have your sensitivity settings wrong or a terrible wifi connection then a few adjustments will lead to almost immediate improvement. However, there is a limit to this and there is no avoiding the need for deliberate practice if you want to reach elite levels. This needn't be burdensome. 10 minutes every time before you play is sufficient to see continuous improvement. But even this small amount will at times feel tough. Sometimes you just won't feel like practising. That's when habit-forming becomes essential as it circumvents the need for self-control.
So good luck on your aiming improvement! Please join us on Discord and let us know how you get on.