Does a higher refresh rate monitor improve my aim?
Over 1 million training games are played per month on the Aiming.pro aim trainer. We thought it would be interesting to explore the relationship between refresh rate and aiming performance.
People often say there are no shortcuts to improving your aim or that you cannot improve your reaction times. Wouldn't it be great if they are wrong?
Read on to learn how your monitor affects your aim or if you just want the answer skip to the conclusion.
Background
Standard monitors have a refresh rate of 60hz which means your games will run at a maximum of 60 frames per second. Gaming monitors have 144hz or 240hz refresh rates, which implies quite straightforwardly, you can push that maximum frame rate up to 144fps or 240fps.
It's almost indisputable that higher frame rate improves gaming performance. Every article online says so. Logic says so. All the gaming equipment companies certainly say so. There's no need to rehash all that info.
Here's the question that's rarely answered and is most important:
How much does monitor refresh rate improve my aim?
Gaming monitors come at a price. You want to make sure the performance increase is worth the cost. At aiming.pro we are uniquely placed to analyse game performance and answer this question.
Here's what we're going to do:
Check out what frame rate our players are playing at - get a feel for the landscape.
Look at a simple distribution of score vs frame rate - see if there is a correlation
Dive into some player level data for those who have switched between low and high frame rate - prove causation.
What refresh rate are people using?
If you're running at 60hz you might wonder how many people are gaining an advantage over you by having a better monitor. Here's the answer: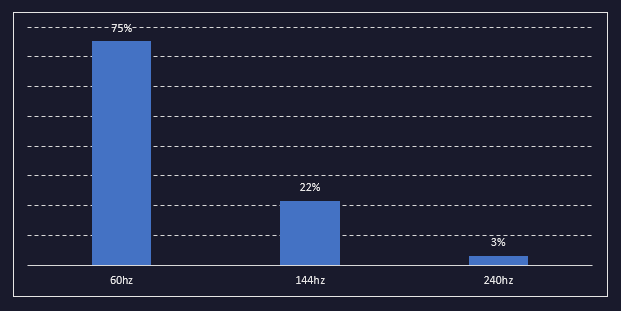 At 60hz you're definitely in the majority but a quarter of players have better gear. Maybe these are the players getting the edge over you in competitive gaming.
Correlation of frame rate and performance
We're going to take a look at the score distributions, split by frame rate for some of our most popular games - our skill assessments. These 4 game types cover target frenzy, flick aim, tracking aim and target switching - four distinct skill areas. Maybe frame rate impacts different aspects of aiming in a different manner: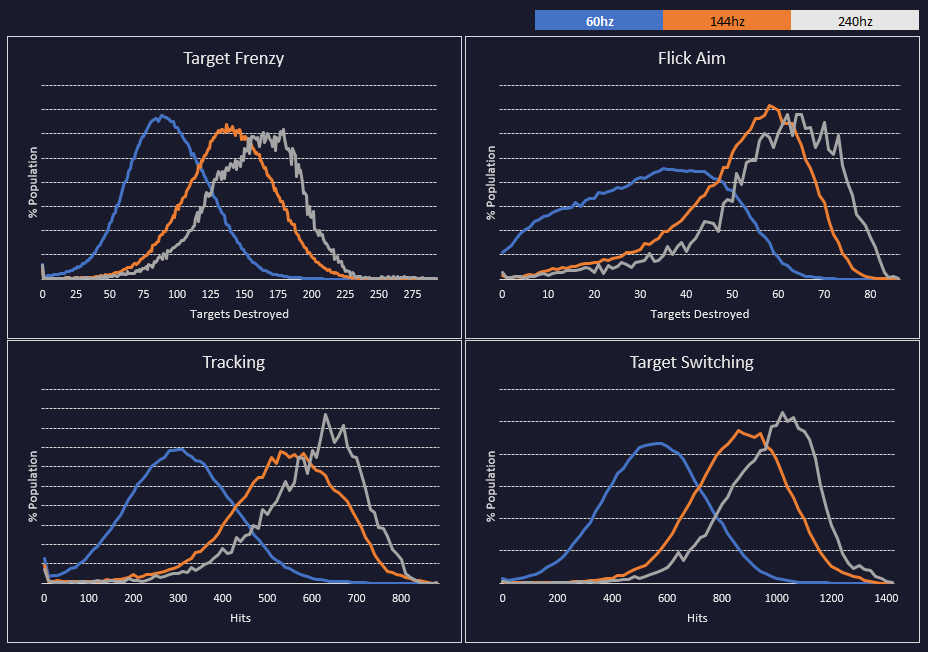 There is definitely a correlation between frame rate and aiming.pro performance. Players with 144hz have 60% higher scores than 60hz and that goes up to 80% for 240hz.
That is huge but let's not jump to conclusions just yet though.
It's extremely likely that gamers with higher end gear are more serious about gaming, therefore have had more practice, so are expected to have higher performance than the group of gamers at 60hz who will be a mix of casual and serious.
We need to control for the population performance mix somehow. In an ideal world we'd create a randomly selected control group who are stuck at 60fps regardless of their gaming gear. But, we wouldn't do that to our players - it's too cruel. Next best thing - we're going to find a group of players who have switched from low to high frame rate (or the other way around) and see what performance change those players saw.
Analysis of players who have switched frame rate
Here's the plan:
For each skill assessment find players who have played at least 10 games at 60fps and 10 games between 144 and 240fps.
Get their average scores at 60fps vs 144/240fps
Compare the averages
Let's take a look at the results:


Across the board there is an uplift in the ballpark of 20-30%.
There are definitely caveats with this analysis, for instance players get better over time and we haven't controlled that for here.
The analysis could be refined using some proper statistical techniques - no one is happy with averages of averages. The population sizes for the analysis have become small due to the criteria we placed to ensure we're doing fair analysis, but they are still a decent size.
Overall though the results are pointing consistently in one direction, so I'm pretty happy to share these findings.
Conclusion
No one likes to hear caveats, ifs & buts - so I'm going to take a stance and say:
Switching up from a 60hz to a 144hz or better monitor can improve your performance by 20%.
GG
Discuss & Stay Connected:
Join us on Discord, Twitter and Reddit to discuss this and anything aiming &gaming!