Announcing Aiming.Pro+ and Analysis Mode
Our goal at Aiming.Pro has always been to offer a comprehensive free aim training solution and so far we feel like we've made a strong start. Over 100,000 of you have signed up for our service and between you, you have played over 1 million games.
Along the way, we've had some exciting ideas for new features to help players take their skills to the next level. Things that won't necessarily be useful to new gamers, but experienced and motivated players will find them helpful in unlocking extra performance to give them the edge in high-level gameplay. These features include:
6 New performance metrics
Custom Game Creation
Custom Charts
(More details on these below)
We're committed to offering a comprehensive free service. Everything that's currently free will remain free and most of our roadmap of new features will be available for free. Our guiding principle for this is simple:
Anything that will be useful for new and beginner players will be free.
Here are the primary features we already offer completely free:
4 skill assessments resulting in a total skill rating
50+ training drills to practice specific aiming techniques - flick aim, tracking aim, wrist aim, arm aim - it's all available.
Postgame analysis, data and charts
Skill group performance comparisons
Full training and performance history
Game environment matching - mouse sensitivity and field of vision (FOV)
Crosshair customisation
We'll continue to develop new free features - here are some of the things on our current roadmap:
Personalised training plans
New game modes including audible reaction time test
Monthly challenges with prizes
A new and enhanced tracking game mode
Analysis Mode
This is an exciting new game experience which will enable you to review your aiming technique in an innovative way. The path of every shot movement is drawn on screen, colour coded for speed and compared to the direct path to allow you to see your path efficiency. This will let players get super focused on the exact path they are taking, build muscle memory for efficient movement therefore shaving crucial milliseconds off their target acquisition times.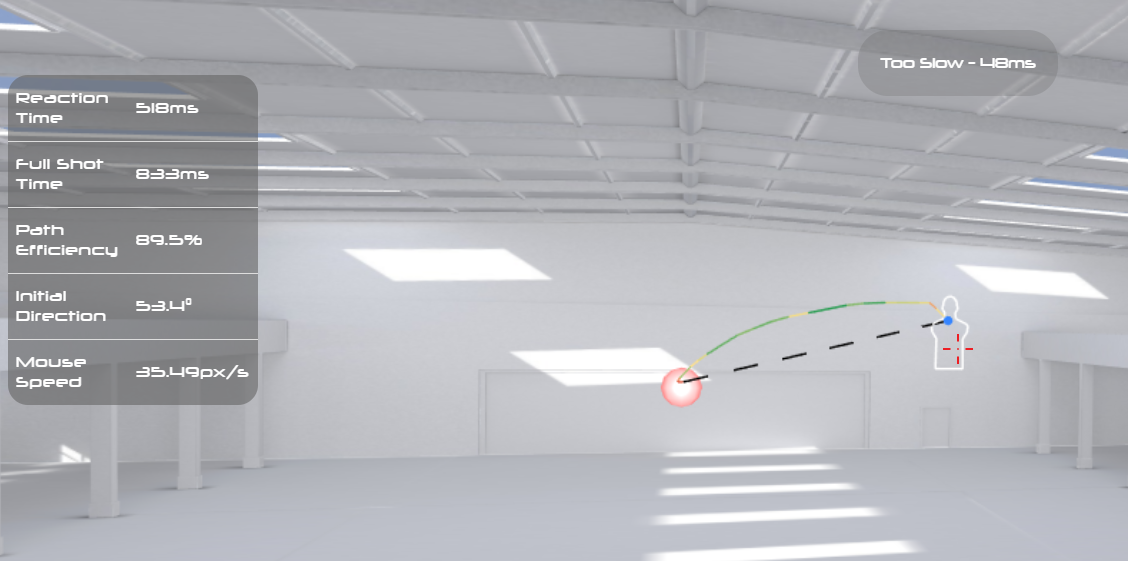 This will be a valuable tool for new and experienced players to uncover previously unseen data and it is completely free
Aiming.Pro+
This will focus on gamers who are comfortable with complexity, highly motivated to measure, plan and explore their own skills developments and determined to achieve their highest levels of potential. Here's what's on offer:
6 New Performance Metrics
For a unique and granular insight into your aiming technique. These include:
Initial Movement Direction (how efficient is your initial mouse movement relative to target position)
Mouse Travel Efficiency (do you make an efficient straight line towards your target, or move in a banana or spaghetti movement to your target)
Mouse travel speed (how fast do you move your mouse)
Per-target reaction time
In isolation, these metrics are useful insights into your aiming technique, but where they really become powerful is when comparing your metrics to players in higher skills groups. Which of the specific technical elements of your aiming technique are preventing you from achieving elite levels of aiming skill? Now you can find out
These metrics will be incorporated into all areas of the site including:
Analysis Game Mode
Custom charts
Personalised Training Plans (coming soon)
Our drill recommendation engine
Being able to track and review your performance progress in these leads us onto our next new feature:
Custom charts
Custom charts will allow you to slice and dice your data any way you see fit. With custom axis, filters, data grouping and access to all performance metrics, you have complete control over your own performance data review. You will also be able to download all your performance data to plug into your own data analysis tools.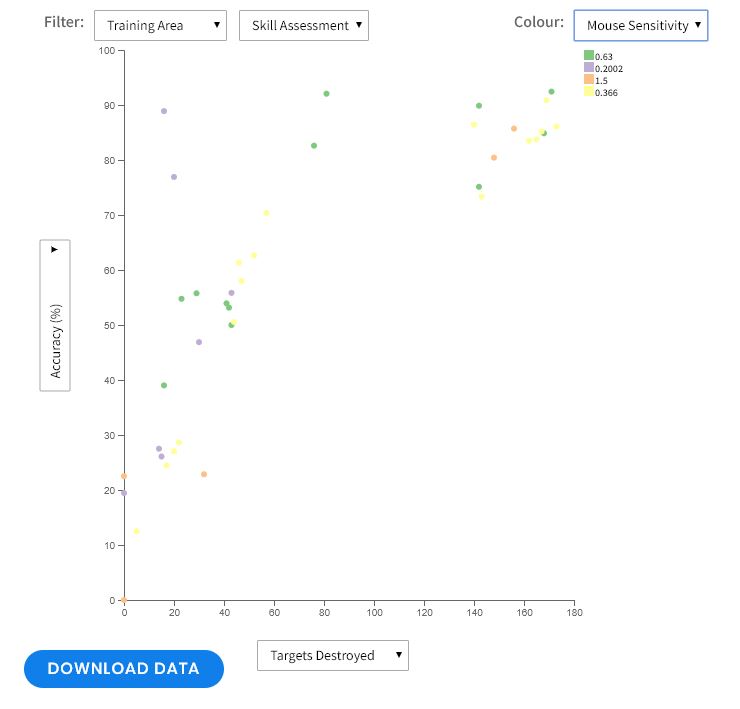 Custom Games
For most players, our skill builder (and personalised training plans - coming soon) are the recommended way of training. They have been carefully selected and optimised to maximise skills development. But advanced gamers will benefit from creating their own custom training drills to target specific training needs (perhaps needs that they have identified through thorough analysis of their training data). We are introducing a new custom game mode where user can create and share their own personalised games:

Anyone will be able to play custom games but only Aiming.Pro+ members will be able to create them. Each of them comes with its own leaderboard and has full performance tracking as per all of the existing training games.
Ad-Free Experience and Additional Extras
As a supporter of the site you will also get:
Ad-Free Experience
Premium members badge on forums, leaderboards and Discord
Sign up here for your free 7-day trial. We are offering an introductory offer for the first 250 subscribers of 20% off annual subscriptions (valid until the end of August) with the code: 20LAUNCH. This brings the cost down to only $2.39 per month.

Note: Valid for annual subscriptions only. Code is entered on the final stage of checkout