Aiming.Pro+
Aiming.Pro+ is our exclusive new service for gamers who are comfortable with complexity, highly motivated to measure, plan and explore their own skills developments and determined to achieve their highest levels of potential. Here's what's on offer:
Aiming.pro+ Academy - Brand New Feature!
We've just released the Aiming.pro Academy (28th Nov 2019) which is a massive new addition to the Aiming.pro+ package. You can find the Academy here. It's a structured aim training course, the first of it's kind anywhere online. Over 100 lessons including 20 video tuturials.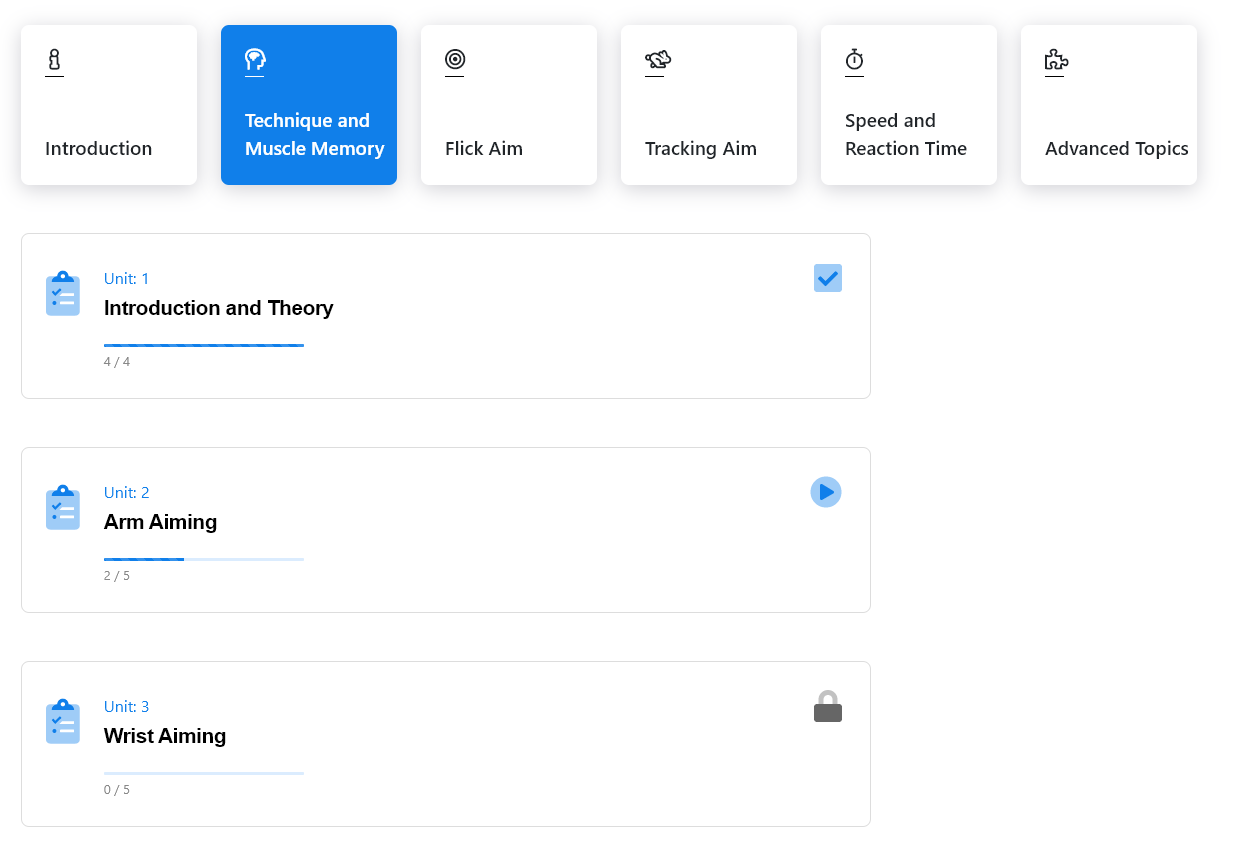 6 Premium Performance Metrics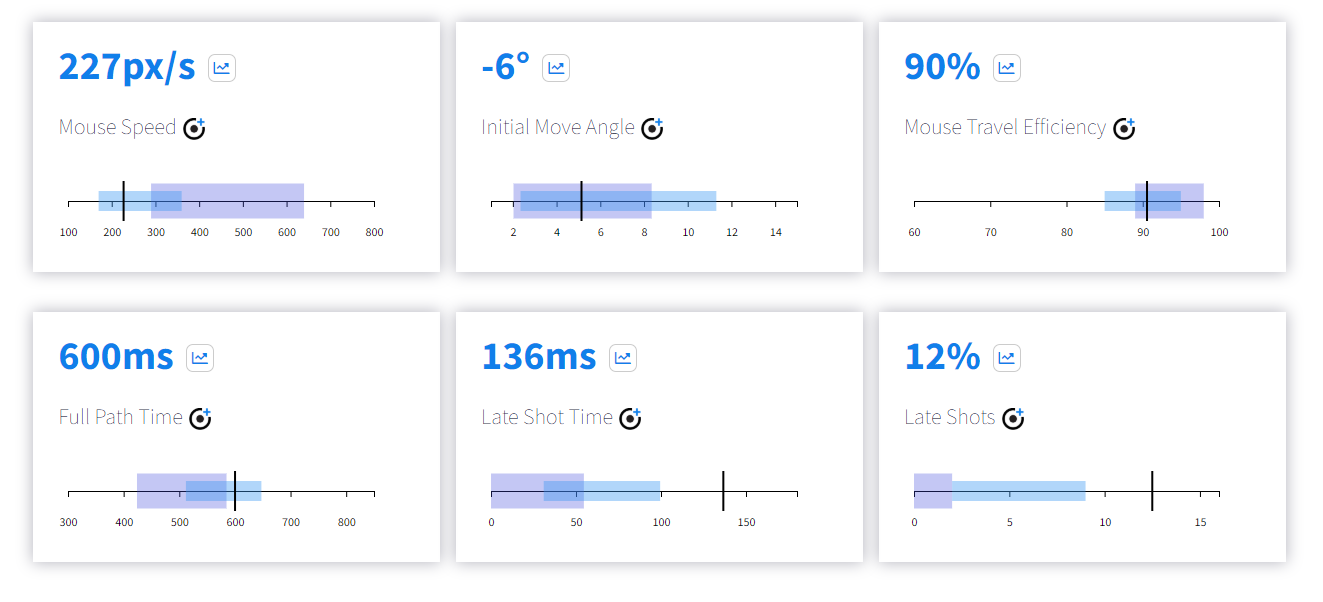 For a unique and granular insight into your aiming technique. These include:
Initial Movement Direction (how efficient is your initial mouse movement relative to target position)
Mouse Travel Efficiency (do you make an efficient straight line towards your target, or move in a banana or spaghetti movement to your target)
Mouse travel speed (how fast do you move your mouse)
Per-target reaction time
Late Shot Time (when you are too slow to hit the target.....how slow are you?)
Late Shot % (how frequently are you too slow)
In isolation, these metrics are useful insights into your aiming technique, but where they really become powerful is when comparing your metrics to players in higher skills groups. Which of the specific technical elements of your aiming technique are preventing you from achieving elite levels of aiming skill? Now you can find out
These metrics will be incorporated into all areas of the site including:
Analysis Game Mode
Custom charts
Personalised Training Plans (coming soon)
Our drill recommendation engine
Custom Games
For most players, our skill builder (and personalised training plans - coming soon) are the recommended way of training. They have been carefully selected and optimised to maximise skills development. But advanced gamers will benefit from creating their own custom training drills to target specific training needs (perhaps needs that they have identified through thorough analysis of their training data). We are introducing a new custom game mode where user can create and share their own personalised games:

Anyone will be able to play custom games but only Aiming.Pro+ members will be able to create them. Each of them comes with its own leaderboard and has full performance tracking as per all of the existing training games.
More Charts - Over/Under, Initial Movement Direction and Shot by Shot Chart
There are three advanced charts for you to further analyse your data after each game.
Initial Movement Direction shows you to what extent your initial mouse movement is directly towards the target: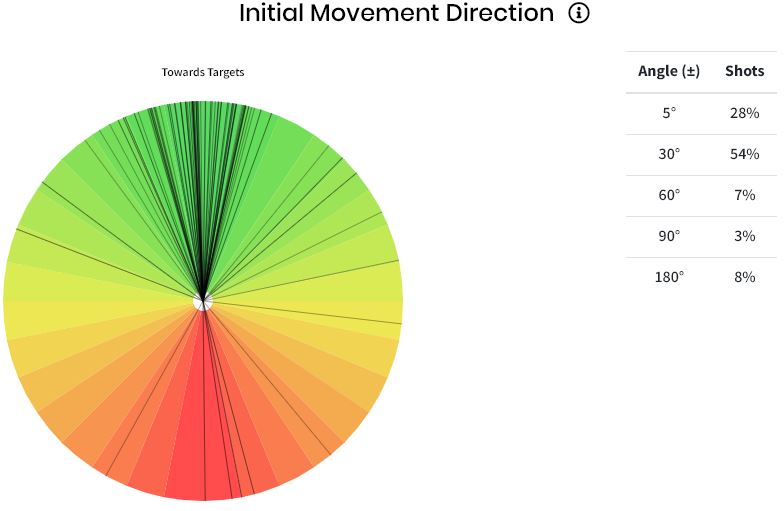 Over/Under shows whether you tend to over or undershoot (for each octant).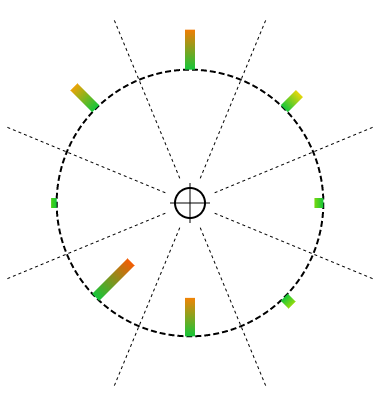 Shot by Shot shows you details for several metrics at an individual bullet level. Slow to warm up? Panic at the end? This will help you diagnose these sorts of issues.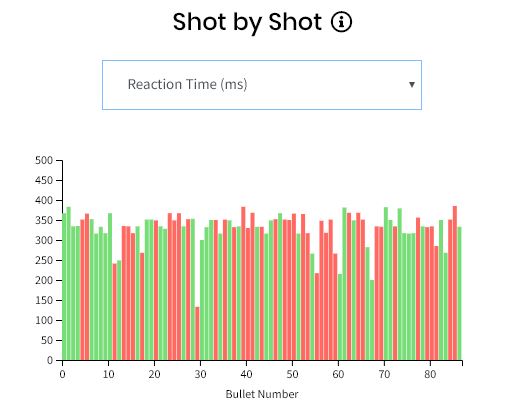 Custom Charts
Custom charts will allow you to slice and dice your data any way you see fit. With custom axis, filters, data grouping and access to all performance metrics, you have complete control over your own performance data review. You will also be able to download all your performance data to plug into your own data analysis tools.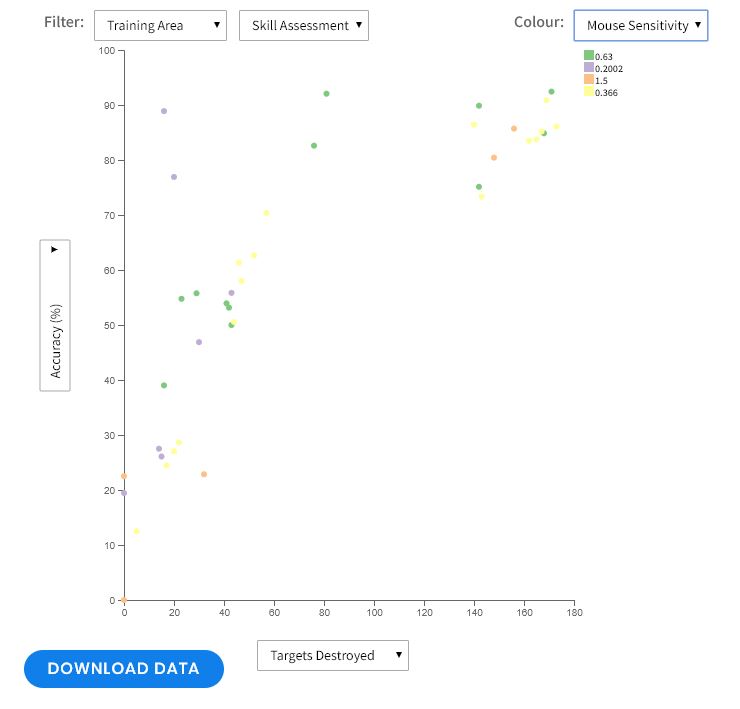 5 More Metrics in Analysis Mode
When using analysis mode, you will get access to 5 additional metrics giving you the change to explore your technique in great detail - all in realtime.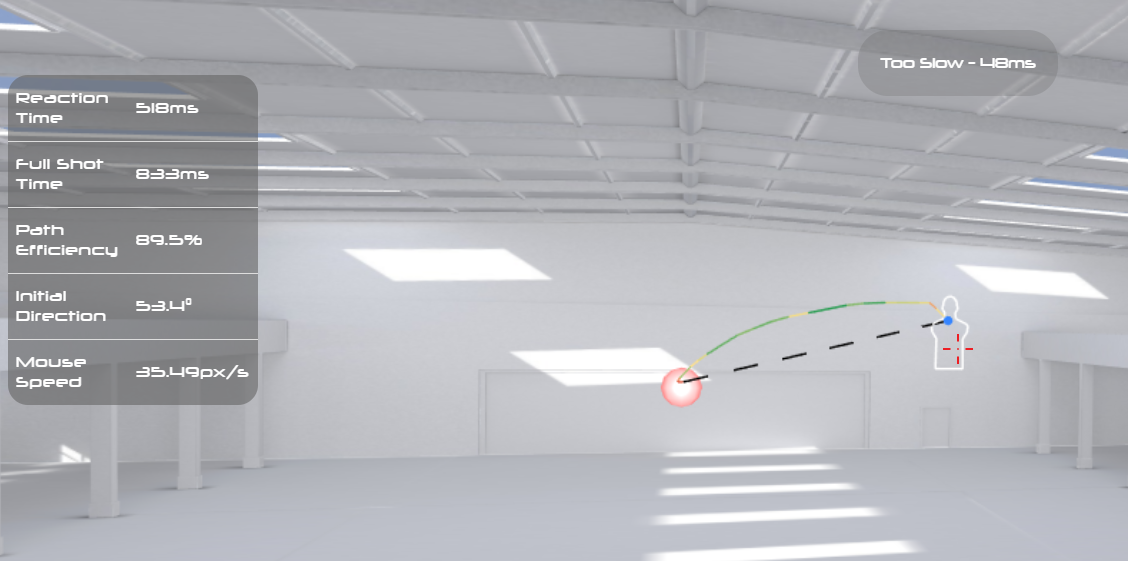 Ad-Free Experience and Additional Extras
As a supporter of the site you will also get:
Ad-Free Experience
Premium members badge on forums, leaderboards and Discord
Sign up here for your free 7-day trial. We are currently offering 20% off annual subscriptions for the first 250 subscribers to use the code: 20LAUNCH. This brings the cost down to only $2.39 per month.

Note: Valid for annual subscriptions only. Code is entered on the final stage of checkout