Elevate Your Gameplay with the New Overwatch 2 Trainer on Aiming.pro!
Attention overwatch enthusiasts and aspiring champions! We're thrilled to introduce the newest addition to our arsenal of training tools - the Overwatch 2 Trainer, now available exclusively on Aiming.pro!
The team at Aiming.pro has been hard at work to ensure that players have the ultimate resources to enhance their abilities and dominate the battlefield. We understand that mastering the intricate mechanics and fast-paced action of Overwatch demands precision and lightning-fast reflexes. That's why we're excited to unveil this brand new Trainer designed to help you elevate your game to the next level.
So, what can you expect from the Overwatch 2 Trainer?
Game Matching
Seven of the most popular weapons / characters from Overwatch 2 have been replicated to give a mechanics feeling just like Overwatch game play:
Zayra
Soldier:76
Orisa
Genji
Cassidy
Ashe
Widow
Target movement patterns follow speeds and behaviours found in OW2, alongside special techniques such as exo-boots.
Assessments
12 carefully designed assessments to cover a broad range of Overwatch 2 skills and aim types. Each drill has a set of ranks and target scores. These are the drills you want to keep coming back to and improving your rank. We've got a whole load of features to support you here.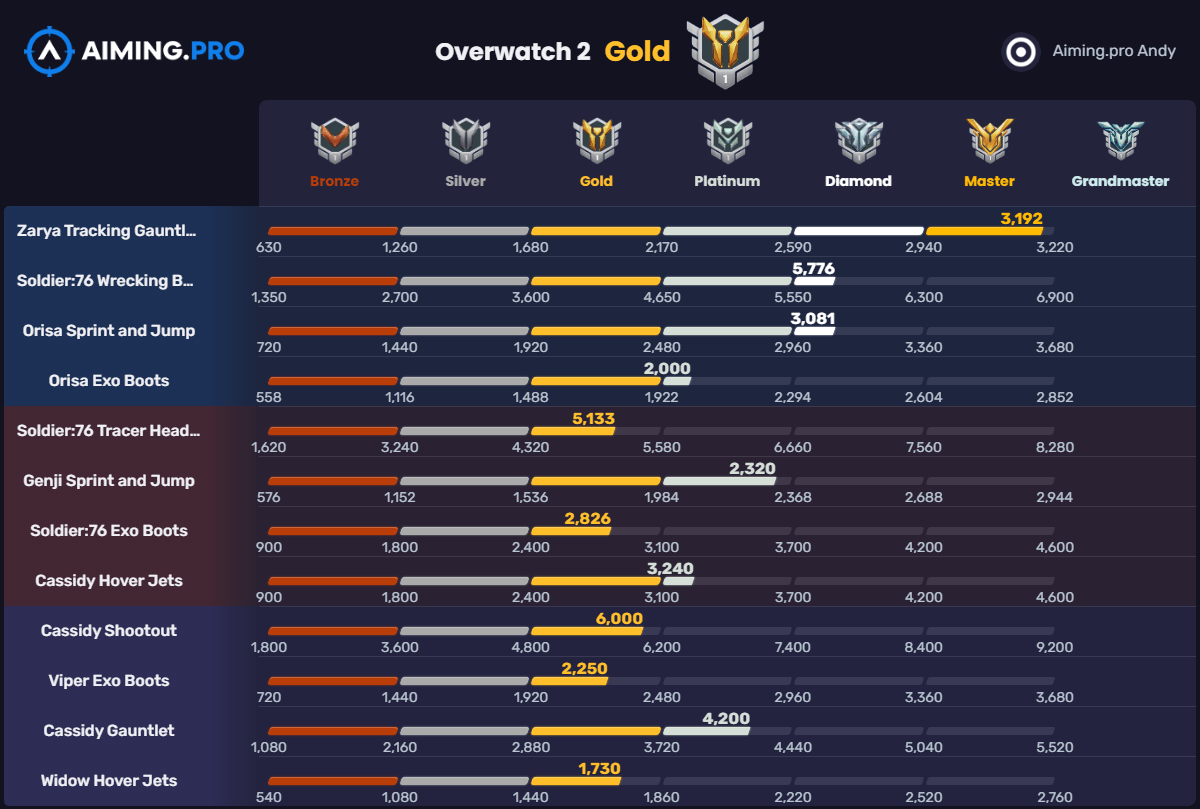 Workouts
The primary feature to support improving in the assessments are workouts. You can create a workout focused on any of the assessments and it'll create a specially tailored workout with ramp-up and overload drills each with their own personalised target scores to help you achieve the next rank.
Progressions
Progressions are a slightly different drill structure. Here you are guided gradually through drills of ever increasing difficulty. You'll zip through the earlier drills but then get stuck at your current skill level until you improve.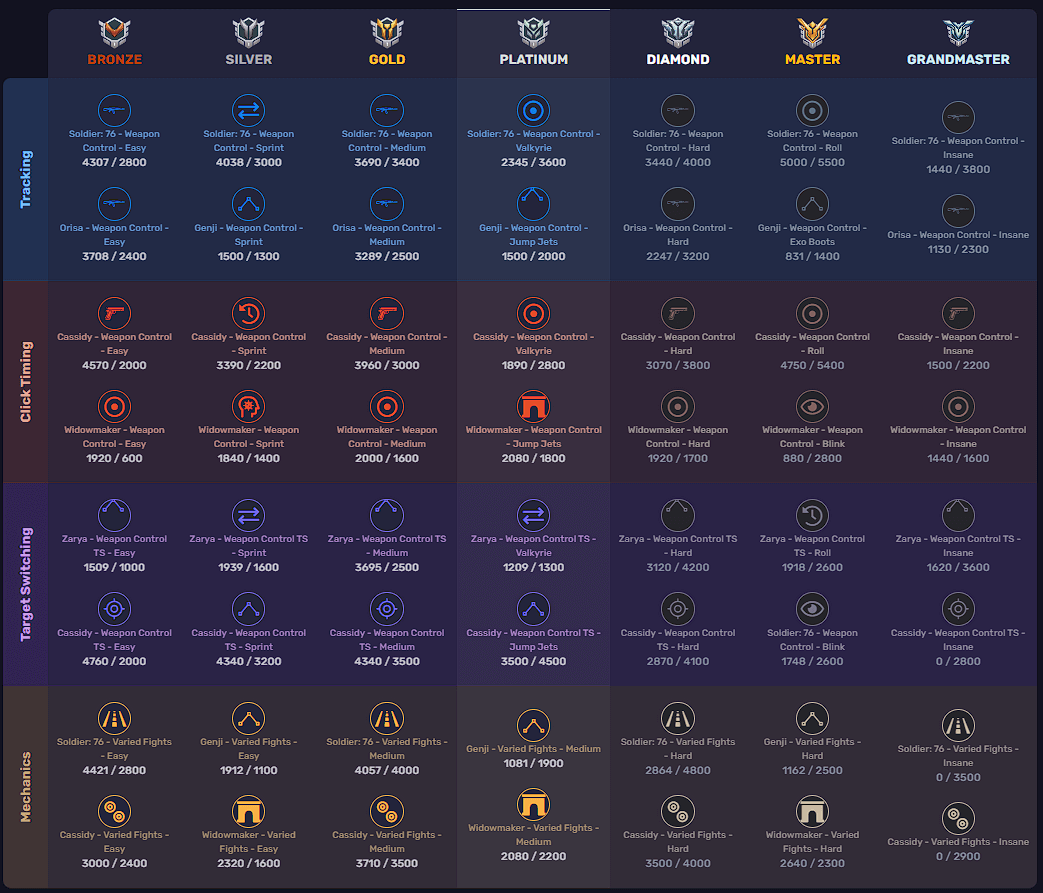 Workshops
You need the theory behind aiming to help progress. Check out the workshops for great tips on how to set yourself up for aiming success.
Pro Runs
Watch & learn from the experts! Each drill has a recording of a great score. Keep an eye out for any tricks and techniques employed!
How to get started
Getting started with the Overwatch 2 Trainer on Aiming.pro is simple. Sign up for our platform, choose the Overwatch 2 Trainer, and embark on your journey toward gaming greatness!
Whether you're a competitive player aiming for the top ranks or someone who simply wants to improve and enjoy the game more, our Overwatch 2 Trainer is here to support and guide you every step of the way.
At Aiming.pro, we're dedicated to empowering gamers by providing top-notch resources to help you achieve your full potential in Overwatch 2. The Overwatch universe is evolving, and so are we.
Prepare to unleash your full potential in Overwatch 2 with the Overwatch 2 Trainer on Aiming.pro. Get ready to aim higher, and emerge victorious in the thrilling world of Overwatch 2!
Don't miss out on this game-changing opportunity. Join us on Aiming.pro and be among the first to experience the future of Overwatch training. Your journey to mastering Overwatch 2 starts now!