How to get maximum FPS while playing Aiming.pro
Is your game stuck at 60FPS? Playing games with lag or problems is never fun! We want to make sure you are able to perform at your best. Let's optimize Google Chrome to run Aiming.pro for Windows. We will go over how to fix any problems with your computer, optimize Chrome to run at maximum graphic performance, modify your Chrome desktop shortcut to remove framerate cap, remove/disable Chrome addons, or close programs that interfere with Aiming.pro, and finally a list of other issues you may encounter and where to find additional support.
Antivirus and Malware Removal.
First we need to remove any problems with your computer! Please take a moment to check if there are any Windows, video card, anti-virus, or other updates for your computer.
Run a full virus/malware scan on your computer. If you don't have an antivirus you can get several free programs from Google search(Avast, Malwarebytes rootkit).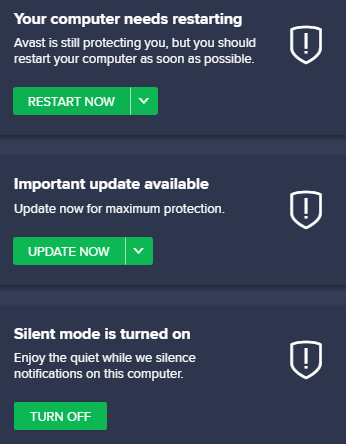 Allow your video card to control Google Chrome
If you use a Nvidia video card you can force Chrome to use your dedicated card by following these instructions: https://alteredqualia.com/texts/optimus/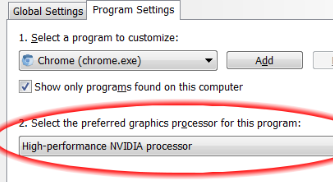 Remove framerate limit and vsync from Chrome desktop shortcut.
To load Chrome without a framerate limit, or vsync we need to modify your desktop shortcut. Right-click Google chrome desktop shortcut, and click properties. Add the following to the area labeled "Target": ( --args --disable-gpu-vsync --disable-frame-rate-limit).
NOTE: Make sure there is a space before the commands you add.
example: "C:\Program Files (x86)\Google\Chrome\Application\chrome.exe" --args --disable-gpu-vsync --disable-frame-rate-limit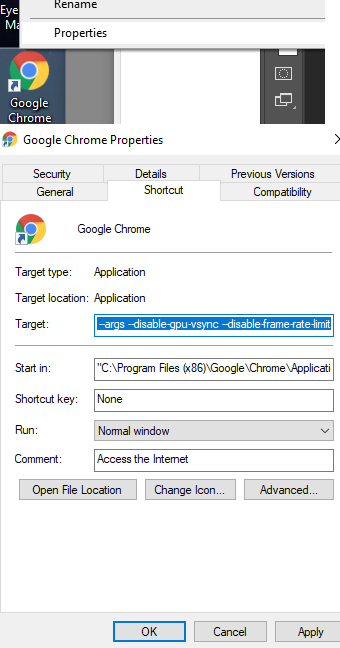 Close all programs before starting
Now your computer is up to date and protected. We can talk about what you want to do before you start your daily routine on aiming.pro. Press Control-Shift-Esc and shut down any programs that are using your CPU (this might be other tabs in your web browser)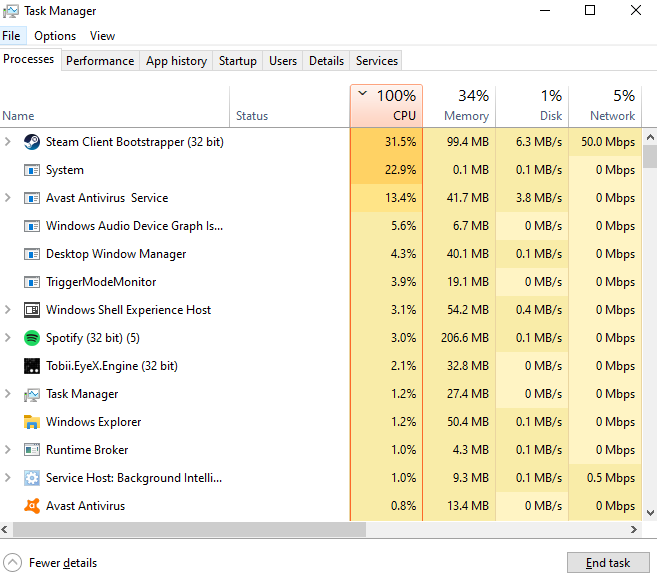 Disable Adblockers and other addons
Now it's time to load up Chrome. Disable Ad Block as this can interfere and slow things down (You may need to disable all addons/extensions depending on what you have).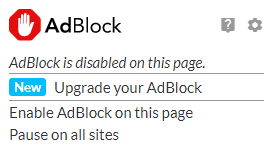 Tired of seeing ads? If you're going to be using the website a lot, it might be a good idea to upgrade to Aiming.pro+.
Time to start training!
Whenever you want to use aiming.pro you need to open it from the desktop shortcut you just modified. If you already have Chrome open, close it fully and open it from the desktop shortcut.
If you continue to have problems, remember to close everything else! Your focus should be on Aiming.pro while training.
-Video player on your second monitor will reduce framerate
-Spotify
-Discord
-Steam updating (Blizzard, Origins, Epicgames)
If you still have problems the Aiming.pro community would be happy to help you! Please drop in and say, "Hello" with this link: https://discord.gg/GyXEBpH
Stay Hungry